Top 10 Hutongs in Beijing
Hutongs are typical lanes with houses built on each side which known as courtyard where the locals still live. Hutong is a unique form of community that exists only in China. It is one of the most distinctive features and must-see attractions in Beijing. There are thousands of Hutongs in Beijing, with names and those without names, many of which were built in the Yuan (1271-1368), Ming (1368-1644) and Qing (1644-1911) Dynasties. We list some of the most famous Hutongs that you shouldn't miss when visiting Beijing.
Nanluoguxiang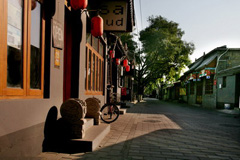 Nanluoguxiang is an 800-meter long south-north alleyway, located between Di'anmendong Avenue and Gulou Avenue, east of Houhai, northern pat of the Dongcheng District.
As one of the best preserved Hutong areas in downtown Beijing, Nanluoguxiang is famous for its Hutong and courtyards (Siheyuan). There are many bars, cafes, and chic shops in Nanluoguxiang which are all designed in classical Chinese Hutong style. It is a mix of history, fashion and culture and it's a big hit with tourists especially the younger generation. Dubbed another bar area besides Houhai Bar Street and Sanlitun Bar Street, Nanluoguxiang attracts thousands of visitors and locals everyday.
Yandaixiejie (Skewed Tobacco Pouch Street)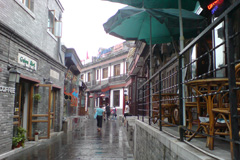 Yandaixiejie is located near by the Houhai, in the north of Xicheng District. It measures 300 meters long which starts from Di'anmen Avenue in the east and ends at Shichahai Lake in the west.
Yandaixiejie, literally meaning "Skewed Tobacco Pouch Street", is one of the most age-old streets in Beijing which could be dated back to Ming Dynasty.
The street originally got its name due to its shape as the street goes from north-east to south-west, like a huge tobacco pouch. During the Qing Dynasty (1644-1911), local residents have the hobby of tobacco and smoking opium. So Many tobacco stores opened at that time. Today, you still can many stores selling tobacco pouches, antiques and all kinds of souvenirs as well cafes and bars with different styles on the street.
Liulichang Street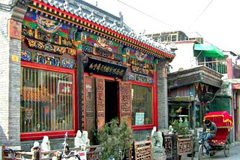 Liulichang Street is located near the Hepingmen (Peace Gate), south of Xicheng District.
As a cultural relics street, Liulichang Street is famous for colleting antiques and Chinese traditional treasures. It is one of the largest antique markets in China and a great place to go for the traditional "four treasures of the study": brush, ink, paper and ink stone. Today's Liulichang was renovated in early 1980s. Shops and vendors link with each other and sell, exchange, exhibit traditional Chinese antiques, and the scene makes the street fit for its origins.
There are many famous antique stores in Liulichang while Rongbaozhai, Laixunge and Yidege are the most renowned ones which runs for hundreds of years. China Bookshop, is another famous brand of the street. You can buy Chinese thread-bound books here, which cannot be easily found elsewhere.
Dongjiaominxiang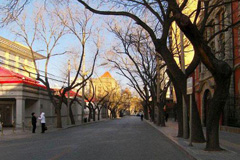 Dongjiaominxiang is the longest Hutong in Beijing, extending 1.5 kilometers from East Tian'anmen Square Road in the west to Chongwenmennei Avenue in the east.
Dongjiaominxiang Hutong had been served as Beijing's diplomatic center for hundreds of years. Many diplomatic buildings and embassies were established along this road. Its unique history has left the area with unique buildings exhibiting diverse architectural styles.
Xijiaominxiang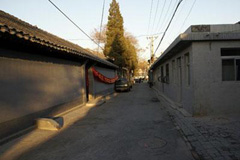 Xijiaominxiang is the west section of Jiaominxiang (Jiaomin Lane), which is next to Tiananmen and Qianmen, in the southern part of Xicheng District. Xijiaominxiang is larger than the average Hutongs which winds about 1,000 meters long and 10 meters wide.
Dongjiaominxiang was famous for its diplomatic function while Xijiaominxiang played more important role as a bankers' land. Many international or domestic banks were like to choose Xijiaominxiang as the sites for their headquarters, making it the city's original financial street. Visitors can still see the architecture of old banks there.
Mao'er Hutong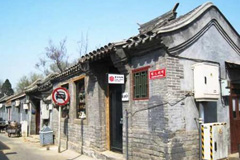 Mao'er Hutong, literally meaning Hat or Hat Maker Lane, could be dated back to the Ming Dynasty (1368-1644). The Hutong runs west to east from Di'anmenwai Avenue to Nanluogu Xiang in the Jiaodaokou sub-district, Dongcheng District.
Mao'er Hutong contains many traditional private gardens and famous former residences which identified as cultural relics, none of which are officially open to the public. No. 35 & 37 of Mao'er Hutong is called Empress Gate, which is the former residence of Wan Rong (1906-1946), the empress of the last Qing Emperor, Pu Yi. The No 11, Mao'er Hutong is Militarist's Mansion which was the former residence of Feng Guozhang, one of the major participants in the nightmarish warlord period (1916-1928) in 20th century Chinese history.
Guozijian Street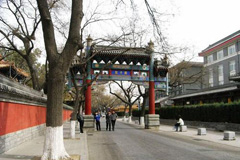 Guozijian Street, formerly known as Chengxian Street, is located in the northwest of Dongcheng District, starting from Yonghegong Avenue in the east to Andingmennei Avenue in the west.
Lama Temple lies next to Guozijian Street. It is one of the largest and most important Tibetan Buddhist monasteries in Beijing. With Many local people praying here, the perfumed scent of burning incense fills the air, making the street seem both classical and mysterious.
Jinyu Hutong (Gold Fish Hutong)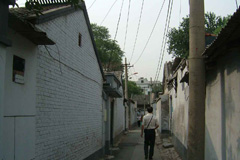 Jinyu Hutong (Gold Fish Hutong) is situated on the eastern side of Wangfujing Street, Dongcheng District.
Lying next to the commercial area of Wangfujing, Jinyu Hutong is more like a commercial street today, which houses many big brand hotels, restaurants and shopping centers. The renowned Jixiang Theatre, Dong'an Market and Donglaishun Restaurant are located there.
Ju'er Hutong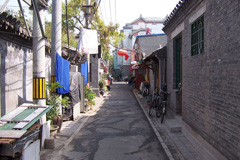 Ju'er Hutong is located in northwest Dongcheng District, stretching over 400 meters long, from Jiaodaokou South Road in the east and Nanluoguxiang in the west.
Ju'er Hutong is an alleyway street where Rong Lu, a provincial governor and right-hand man of Empress Dowager Cixi once lived. The No. 3, 5 and 7 houses are the former residence.
Ju'er Hutong is blessed by the tranquil atmosphere of Siheyuan, compounds with houses around a courtyard with old Beijing features. Today, it is a popular housing neighborhood among foreigners.
Bada Hutong (Eight Great Lanes)
Bada Hutong, literally means the eight great Hutongs, but it doesn't means eight only but means many.Bada Hutong is situated closely around the Dashila area of Xicheng District and consists of Baishun Hutong, Yanzhi Hutong, Hanjia Hutong, Shaaxixiang Hutong, Shitou Hutong, Wangguangfuxiejie Hutong, Zhujia Hutong, Lishamao Hutong and many other Hutongs.
Bada Hutong was first emerged in the 18th century. It was formerly notorious as Beijing's largest red light district in its history, the spot for brothels. The structure of each brothel varied, and all were different from ordinary houses. Today, much of the area has been demolished and rebuilt, but still you can feel some color of the old Beijing there.
Recommended Beijing Hutong Tours
Hutong, lanes or alleys, is formed by lines of Siheyuan (a compound with houses around a courtyard) standing side by side along a straight passage. The Hutongs have witnessed the vicissitude of Beijing. Choose your preferred way to explore the Hutong alleys - by rickshaw, by bike or on foot, to see the authetic real life happening in the alleys.