Unique Qualities of Hutongs in Xicheng District and Dongcheng District
Visiting the Hutong has become very popular as part of a Beijing tour. Although they share a common name, many Hutongs have their own story and unique characteristics.
The oldest and most well known are in Xicheng and Dongcheng Districts. We will explore the Hutongs in Dongcheng and Xicheng District and try to explain the unique qualities of each.
Hutongs in Xicheng District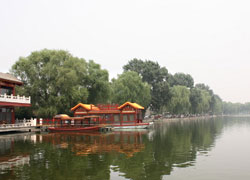 Hutongs in Xicheng District are major grounded near Shicha Lake and Houhai. Most buildings in this area are Shiheyuan (courtyard houses) with Chinese traditional decoration and relics of temples, mansions of monarch and governmental offices. They are surrounded by some ancient city gates like Desheng Gate, Xizhi Gate, Bucheng Gate and Wuxuan Gate, which divide hutongs into regular blocks. A few Hutongs are in irregular shapes like Ya'er Hutong and Baimixiejie. Hutongs in Xicheng District are 4.1 meters wide and 240 meters long on average.
Specialty
Hutongs in the Xicheng District are represented by the Shichahai area. This traditional commercial center is the best preserved area of Old Beijing. It has been a summer retreat for locals since the Qing Dynasty. There are many Hutongs around the lake and these days it has become a very popular and chic bar area. It was the home of famous people like Guo Moruo and Song Qingling. A Hutong tour by rickshaw is very popular in this area.
Famous Hutongs
Some notable Hutongs in this area are:
Yandaixiejie 烟袋斜街
It is the oldest and most famous Hutong in Beijng. Once the home of many famous people it is said to be shaped like a tobacco punch (yandai).
Dajinsi Hutong and Xiaojinsi Hutong 大小金丝胡同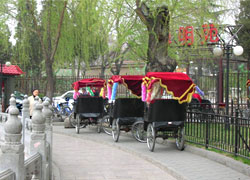 Jinsi means golden silk. Jinsi Hutong refers to the shape of these 2 Hutongs. It is most well-known No. 12 in Dajinsi Hutong,which is the only hutong in the Shiheyuan near the Shicha Lake area where travelers can stay. Most are foreign visitors. It has been recommended by Lonely Planet.
Houhai Beiyan 后海北沿
Houhai is the essence of Shicha Lake area. Nanyan(south bank) is all bars while Beiyan(north bank) the natural scenery and culture remains. No 46 is the former residence of Song Qingling in NO 46, which was once the mansion of Prince Chunqin(Chunqin Wangfu). Puyi, the last emperor in China was also born there since he was the 5th son of Chunqin Wang
Xinghua Hutong 兴华胡同
This Hutong is very rarely seen by tourists. It is straight and broad with many tall trees. Walking in the street, you will find it is full of culture. NO 13 is most famous as it is very splendid but also because it is the former site of Furen University.
Other Hutongs
Other very famous Hutongs in Xicheng are Ya'er Hutong, Nanguanfang Hutong, Longtoujingjie, Daxiangfeng Hutong and Houhai Nanyan. Most have been refurbished and now contain bars and shops.
Crowds
As the traditional commercial center of Old Beijing and its beautiful scenery along the lake, Xicheng District is busy with many travelers in daytime and gets many visitors to the bard and cafes at night.
Visiting Time
This Hutong area has its own unique beauty in all seasons. Summer nights are great and winter has less people. For photographers, winter, summer and autumn will be the best season to take pictures.
Getting There
Take bus NOs 13/42/107/111/118/810/823/850 and gets off at Beihai Beimen Station.(北海北门)
Hutongs in Dongcheng District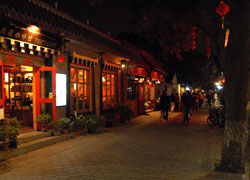 With more and more people flocking into the Xicheng District, travelers began to go other Hutongs in the Dongcheng District. They remain more original and traditional less explored. Most of buildings and Hutongs were built during the Yuan Dynasty. Hutong area around Nanluoguxiang(南锣鼓巷), is representative of Hutongs in the Dongcheng District. They are the most complete and best preserved Yuan-Dynasty buildings.
Specialty
Hutongs are a gem for travelers. Located only 1 street away from the Forbidden City, Dongcheng District is also one of the oldest blocks in Beijing. Compared with Xicheng District, it is much more local and better preserved and a place where you could have real local family visit and learn to cook Chinese food, try paper-cutting, calligraphy and study Chinese ancient civilization (including philosophy, history, archaeology, literature, linguistics).
For those wishing to see an ordinary old Beijinger's life, the Hutongs in Dongcheng are a good choice.
Not-to-miss Hutongs
Hutongs in Dongcheng District have a special culture and local customs.
Nanluoguxiang 南锣鼓巷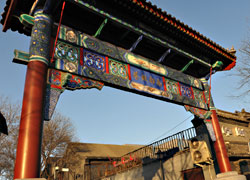 Nanluguxiang is also called Wusong Xiang(Centipede Alley).It is 800 yards long and get its name from the neat symmetry of the Hutong along both sides of the street. Though it is the most famous Hutong in Dongcheng District, other Hutongs in Dongcheng have their own charm.
Dongmianhua Hutong 东棉花胡同
This Hutong is noted for the famous university-The Central Academy of Drama, which is the top academy in China. Many Chinese famous stars including Gong Li, Zhang Ziyi, Tang Wei and Zhao Wei spent their university life there.
Ju'er Hutong 菊儿胡同
Its specialty is the new-style Shiheyuan. It has been rebuilt based on the original Shiheyuan.
Mao'er Hutong 帽儿胡同
If you want to feel the old Beijing, do not miss this one. It's connected to Ju'er Hutong, Nanluguxiang and Yandai Hutong. NOs 7/9/12 consist of a pretty private garden which is one of the best preserved and representative private gardens in Beijing. NO 13 is the former residence of Feng Guozhang, the vice-president during the period of the Republic of China.
Banchang Hutong 板厂胡同
Banchang Hutong stands out for its big courtyards and tall trees. In summer, many old people chat under the tree in the street and children play around. It is very different to that of busy Nanluoguxiang.
Heizhima Hutong 黑芝麻胡同
It is located in Nanluoguxiang. NO 13 is a building and garden, which was originally occupied one of the most famous and richest men in Beijing. The decoration of the pillar and windows are very elegant.
Yuanensi Hutong 圆恩寺胡同
No matter Qian Yuanensi Hutong or Hou Yuanensi Hutong, they are both worth visiting. Hou Yuanensi is more famous because of celebrities who once lived there. NOs 7 and 9 is the former residence of Jiang Jieshi, the president of the Republic China. NO 13 is the former residence of Maodun who had been lived there for years. It is now a memorial for Maodun.
Crowds
Quieter than that of Xicheng Hutongs and not so many stores and bars, most are local people, instead of travelers walking around.
Visiting Time
Winter and autumn are good seasons to visit Hutong and take excellent photos.The Hutong at the sunset is very beautiful.
Getting There
Take Bus NOs 5/60/82/124/635 or trolley bus NO 107 or night bus NO 204 for outer ring and inner ring or combined transport of sightseeing bus NOs 1 and 2.
Summary of Hutongs in Dongcheng District and Xicheng District
| | | | | |
| --- | --- | --- | --- | --- |
| Name | Feature | Commercialization Index | Best Visit Time | Recap |
| Hutongs in Dongcheng | Local life and culture | xx | Winter, autumn and sunset. | Traditional buildings and life are preserved well. |
| Hutongs in Xicheng | Lake view and bars in Hutongs | xxxxx | Summer night | A mixture of modern life and ancient Hutongs |