Activities for Kids
Beijing, at first glance, may not seem suitable for kids to travel to. Actually, there are some fascinating tourist attractions in Beijing, dedicated exclusively to kids. What's more, Beijing offers plenty of options especially for kids to freely enjoy themselves. Beijing attractions for kids include amusement parks, water parks, aquarium, science museums, indoor and outdoor playgrounds.
Shijingshan Amusement Park 石景山游乐园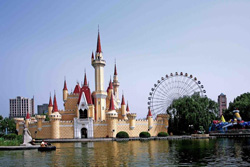 Shijingshan Amusement Park is located in the Shijingshan District of Beijing. It covers an area of 350,000 square meters. Shijingshan Amusement Park is one of Asia's largest theme parks which has more than 100 and attractions. Beijing Shijingshan Amusement Park features the brand of cultural activities, an annual event which are deeply loved by the tourist.
At present, the Shijingshan Amusement Park is the theme park which owns the most entertainment games in Asia, like Gothic Cinderella Castle, Arabic restaurant, Euro style Blue Bridge and Russian gate tower etc.
Address: 25 Shijingshan Lu, Shijingshan District, Beijing 北京石景山区石景山路25号
Admission Fee: RMB98
Opening Hours: 9:00 - 16:30
Tel: 010-68862547
Beijing Happy Valley 北京欢乐谷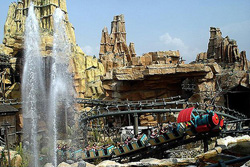 Sick and tired of a long journey, you may wonder where else you can have entertainment. Beijing Happy Valley can fully satisfy your desire. This Happy Valley is a piece of work of typical world civilization. Beijing Happy Valley is composed of six theme parks, including Lost Maya, Atlantis, Aegean Sea, Firth Forest, Ant Kingdom and Shangri-La.
Beijing Happy Valley also features its thematic activities. Pop Music Festival, Maximal Exercise Festival, Chinese Spring Festival, Water-Splashing Festival, International Magic Day, they will fully satisfy your desire and curiosity.
Address: Wuji Road, East Fourth Ring Road, Chaoyang District, Beijing 北京朝阳区东四环小武基北路
Admission Fee: CNY 160 (Mar.16 - Nov.15); CNY 120 (Nov.16 - the next Mar.15); Night Ticket: CNY 60 (Apr. 1 - Jun. 30)
Opening Hours: 9:00 - 19:30 (weekday); 8:30 - 19:30 (weekend)
Tel: 010-67383333
World Park Beijing 北京世界公园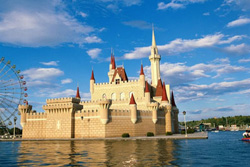 World Park Beijing covers an area of 46.7 hectares. It is a theme park featuring miniatures of famous landmarks and tourist attractions from around the world. International theater groups are also invited by the park to give performances. In this park visitors can also culture from different countries, like the folk parade. The exotic food and all kinds of interesting activities are available either. Places for wedding ceremony and conference are available for reservation.
Since its opening in 1993, the Beijing World Park has received 1.5 million visitors annually. Visitors can travel the world in one day, and the park has become a window displaying the culture of various countries.
Address: 158 Dabaotai, Huaxiang Township, Fengtai District, Beijing 北京丰台区花乡丰葆路158号
Admission Fee: RMN65 per adult and RMB24 for child
Opening Hours: 9:00 - 21:00 (summer); 9:00 - 17:00 (winter)
Tel: 010-83613344
Beijing Pacific Underwater World 北京太平洋海底世界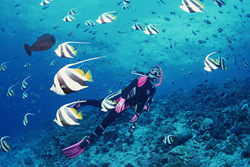 Beijing Pacific Underwater World is a comprehensive and modernized exhibition hall. It exhibits marine lives for viewing and entertainment. But at the same time it teaches people about the knowledge and science about the underwater world.
This aquarium stocks hundreds of species of marine organisms, including large and ferocious sharks, small bright and colorful coral reef fish, and a variety of rare species of freshwater fish are all can be found here. It has an 80-meter-long underwater tunnel will take you to deep seabed where you can watch the mysterious characteristics of jellyfish granted by the Nature. Performances are the distinctive characters of this park: little sea lions got special skills; beautiful mermaid will take you to a dreamlike fairy land; penguins will greet you in queue.
Address: Beneath CCTV tower, No. 11, W. 3rd Ring Rd Middle, Haidian District Beijing 北京海淀区西三环中路11号中央电视塔院内
Admission Fee: RMB 85 (Adults); RMB 55 (Children of 1 meter – 1.4 meter tall)
Opening Hours: 08:30 a.m--17:30 p.m
Tel: 010 -68714695/6846
Transportation: Take Bus 300 and get off at Hangtianqiao Stop, or take Bus 323, 368, 374, 394, 437, 809, 817, 944, 968, 977 or special line 8 and alight at Hangtianqiao Stop.
Blue Zoo Beijing 富国海底世界海洋馆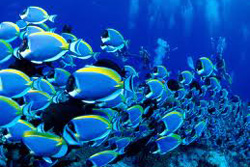 Blue Zoo Beijing covers an area of 7,800 square meters. It owns the longest underwater tunnel in Asia which is 120metres in length. Blue Zoo Beijing stocks hundreds of species of marine organisms, including sharks, rays, eels, coral reef fish, lobsters, sea horses, starfish and many others. The daily excitement of watching specialist divers feeding the fish and sharks twice a day is the other attraction of the underground aquarium.
Besides its entertaining function, Education forms an important facet of Blue Zoo Beijing. An educational centre is staffed by teachers who host lectures to teach the visitors about the knowledge of the marine lives.
Address: Workers' Stadium South Gate, Chaoyang District 北京朝阳区三里屯工体北路北京工人体育场南门
Admission Fee: RMN75
Opening Hours: 8:00-19:30 (summer); 8:30-18:30 (winter)
Tel: 010-65913397/65935263
The Watercube Waterpark 水立方嬉水乐园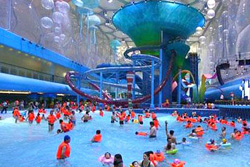 The Watercube Waterpark is located inside the world renowned Beijing National Aquatics Center (The Watercube). The Watercube Waterpark is China's first fully themed international indoor waterpark. It covers an area of 12,000sqm with 13 water slides and rides, a wave pool, a lazy river and even a spa area. This water park got everything a kid could dream of, or even more. But cautious parents have no fear about the gargantuan size of this park since you have the help of the watchful eyes of about 60 lifeguards on duty. You can bring your own swim gear and towels, or you can buy all of them in the water park.
Address: Olympic Park, 11 Tianchen Donglu, Chaoyang District 北京朝阳区奥林匹克公园天辰东路11号水立方嬉水乐园
Admission Fee: RMB 200 adult, RMB 160 children
Opening Hours: 10:00am - 9:30pm
Tel: 010-84378086
Happy Magic Watercube 北京欢乐水魔方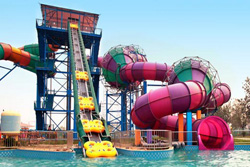 Do not be confused the park with the Water Cube at the Olympic Park. The Happy Magic Watercube is located in the Fengtai District. It covers an area of 33 hectares and claims to be the biggest water park in the world, with a capacity of 30,000 people. Its tornado is the highest one in the world. Starting from the 20 –meter high entrance, the Zero –G force will give you a thrilling experience of being sucked up into the tornado. You can experience the "seat of your pants" in Tantrum Alley; cycle in the world largest bowl; scream for the "Tsunami" in the Wave Pool.
You ask for more? Flow Rider, Plummet Body Slide, Tornado Wave, Cannon Bowl, Octopus Racer, Pipe Line, Ride, House, Kids Twister Body Slide, Aqua play, Lazy River, Spa River, Bubble Pool, Spa Oasis and Sand Beach are out there waiting for you to come. The park mixes up the traditional Chinese architectures with the modern American breath-taking water entertainment items and a European classical spa concept.
Address: 11 Xiaotun Road, Fengtai District 北京市丰台区小屯路11号
Admission Fee: RMB 200 adult, RMB 160 children
Opening Hours: 10:00am - 7:00pm (June 16-June 30); 10:00am - 10:00am (July 1-Augst 31)
Tel: 400-650-3019 /010-8860-9999
Qingnianhu Park 北京青年湖公园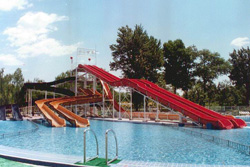 Qingnianhu water park with 11 slides in all, some higher than six floors. It is a charming garden which features a large lake plus play and exercise areas. It has a basketball court, croquet green and a golf range. There are also cafes, a restaurant and boating.
Address: Andingmenwai Dajie, Dongcheng District, Beijing 北京东城区安定门外大街
Admission Fee: RMB15 (adults), RMB10 (children under 1.3m)
Opening Hours: Daily 6am-10pm (summer), 6am-9pm (winter); Qingnianhu Park Water World: Daily 9am-10pm (summer)
Tel: 010-8411 6321 ext 8032
Tuanjiehu Park 团结湖公园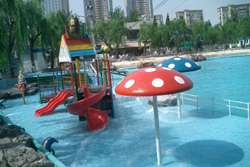 Tuanjiehu is home to downtown Beijing's best and most hygiene conscious water park. It is fulfilled with people on weekends when it teems with masses seeking relief from the heat. Tuanjiehu also built the park to skate, a few trips and boats. The major sceneries are Yun Mountain, Deyue Gallery, Shuigehexiang, Mingyifang, Jingxiang Pavilion, Evening Glow Yiwan Pavilion, Liushuizhaobi, Lancui Pavilion, and Mimick Coast Amusement Park.
Address: No. 16, Tuanjiehu Nanli, Chaoyang District, Beijing 北京市朝阳区团结湖路团结湖公园东门南侧
Admission Fee: Tuanjiehu Park Beach: RMB20 for adults, RMB15 for kids; Pleasure boats: RMB 30-40/hr, RMB 50-100 (deposit); Roller-skating: RMB 5 (entrance), RMB 10 (skate rental);
Opening Hours: Daily 6:00am-9:30pm
Tel: 010-85962151
Chaoyang Park 朝阳公园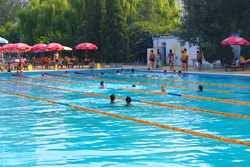 ChaoYang Park is larger than the Summer Palace and, indeed, is the largest park in the city. It first opened in 1984 and covering an area of some 320 hectares. As a multi-functional park of entertainment, Chaoyang Park feathers with the oversea sightseeing. So its gardens, architecture style, entertainments, culture, science, sports and educations are mostly learned from the foreign countries. It has two large outdoor swimming pools with a 75 meter bungee jumping tower above. The park also plays host to many outdoor music events, like the International Midi Music Festival.
Address: Chaoyang Park West Road, Chaoyang, Beijing 北京朝阳公园(西一门)
Admission Fee: CNY 5; CNY8 for monthly ticket; CNY80 for yearly ticket (not include any entertainment facilities and activities);
Opening Hours: 06:00-22:00 (Mar.15 - Nov.14); 06:00-21:00 (Nov.15 - the next Mar.14)
Tel: 010-65953972
Sony ExploraScience 索尼探梦
Sony ExploraScience is a hands-on science education centre. This is the first project of its kind in China. Kids are sure to love this museum. Because it got a lot of dream toys a kid can dream about, including robotic dogs which can play soccer, musical sculptures, sound and light transformers, soap bubble rings and much more. The science shows are regularly host by the staff in Chinese.
Address: Inside Chaoyang Park (near the south gate), Chaoyang District 北京市朝阳区朝阳公园南路1号朝阳公园内
Admission Fee: RMB 30 for adults; RMB 20 for students; free for kids under 1.2m;
Opening Hours: Mon-Fri 9.30am-5.30pm, Sat-Sun 9am-6.30pm, closed on second Mon and Tue of each month
Tel: 010-65018800
Milu Park 麋鹿公园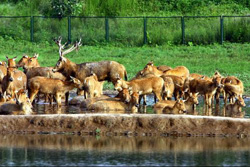 Nanhaizi Milu Park is the first Milu National Reserve in China which has swamps, pastures, pools, forests, and has a full-enclosed eco-environment. It covers an area of 67 hectares and is encircled by a wall of 3,700 meters long and 2.5 meters high.
The Milu was known as Pere David Deer in the West, is a rare species on the verge of extinction. In 1985, a group of 20 milu was reintroduced to China. Today, you can see 800 of them roaming freely here. Remember to bring binoculars and your long-range camera lens. This is a nature reserve, not a zoo. Nanhaizi Milu Park has added many animals, such as spotted deer, red deer, white-lipped deer etc. It now becomes a "Deer Museum".
Address: Nanhaizi Milu Park, Daxing County, Beijing 北京市大兴区南海子麋鹿园
Admission Fee: Free
Opening Hours: 9:00am-4:00pm (Tue-Sun)
Tel: 010-87962105
Le Cool Ice Stating Rink Le Cool 国贸溜冰场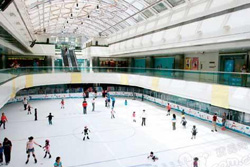 It's winter all year long in the indoor Le Cool ice skating rink. Lace up your rental skates and try not to get caught on your toe pick. Visit in the morning or evening if you want to avoid the crowds and beware the young Olympians cutting a swath across the ice.
Just want to watch ice skating? Free to watch, the event starts Friday afternoon at 5pm to 8pm. Most of the competitors are come from different places of China between the ages of 3 and 21. Just get ready to watch the performances because they are everything you can dream of on ice.
Address: B2/F, China World Shopping Mall, 1 Jianguomenwai Dajie, Chaoyang District 北京朝阳区建国门外大街1号国贸地下2层
Admission Fee: Weekdays: RMB 30 for 90 min (10am-6pm); RMB 40 for 90 min (6-10pm); Weekends: RMB 50 for 90 min.
Opening Hours: 10:00am-10:00pm
Tel: 010-65055776
Fun Dazzle 翻斗乐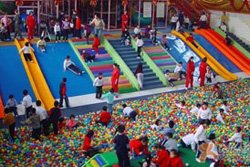 If you got kids who have been spoiled for fun then Fun Dazzle is a good place to go. There is a climbing maze and lose the kids in a ball pool when they get up to the 4th or 5th levels. It has a huge two-story jungle gym, trampolines and a toddler area with small cars, swings, seesaws, toy houses and so on.
Although it is not the best kids play center in Beijing – Family Box in Wangjing holds that title – it remains the best value for your RMB, especially when compared to RMB 400 per child at Family Box.
Address: Workers' Stadium South Road, Chaoyang District, Beijing 北京朝阳区工体南路
Admission Fee: RMB 35 for 2 hrs (kids); adults free (Mon-Fri), RMB 15 (Sat-Sun).
Opening Hours: Mon-Fri 9am-5.30pm, Sat-Sun and holidays 9am-7pm
Tel: 010-65936208
A-Z-Kids 英伦创意园
"A–Z Kids" is an indoor family entertainment centre where dad, mom and the children can all get what they want. This is a cleaner, pricier version of Fun Dazzle which has a lot of play equipment including a maze, an art corner, and a play supermarket. It also got bilingual staff and entertainers to ensure your kids are never bored. About the parents, A –Z –Kids can also help you to kill your time when your kids are having fun their own. Moms can do yoga, dancing and cooking; fathers can find a corner to browse the websites, read magazines or have a drink.
Address: Room 102, Bldg 3, Pinnacle Avenue, Linyin Lu, Shunyi District 北京顺义区A-Z英伦创意园,顺义区林荫路荣和广场3号楼102
Admission Fee: Kids under 3 years old: RMB 60; Kids above 3 years old: RMB 90; Kids under 1 year old: free; Adults: RMB 30
Opening Hours: 9:30am -6:00pm
Tel: 010–85592883
BeYou World 比如世界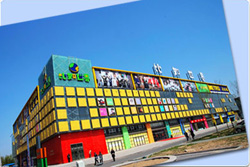 There are blue skies, streets, houses and gardens making for a wonderful world of make believe in this 10,000 sq. meter play space. It has 48 different careers in a town-like setting. Kids can adopt careers as Firefighter (fire is fake), Pilot, Soldier, Flight Attendant, etc. The money that the children earn can be used at the restaurants and theater or can be stored in the bank where it will earn interest. What's more, they'll leave with a new understanding of what each career entails.
Address: Beyou World, Building A-3F, China Career International Center, 39 East Fourth Ring Road, Beijing 北京东四环39号
Admission Fee: RMB 200 for children; RMB 80 for adults;
Opening Hours: 10am-2:30pm, 3:30-8pm
Tel: 400-630-6000
More Beijing Activities for Your Kids & Family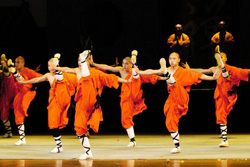 There is no end to the list of Beijing attractions for kids. There are so many places to visit that you will fall short of time and money. You'll find more than enough activities and attractions while on holiday(See our Beijing Vacations, Beijing Family Tours). The above places are certainly the most unique ones and you must make sure that you visit some of these places. Here we list more activities that you could try and add any of it to your Beijing Tour Package as per your interest. Or book our Beijing Family Tour to have it all included!