Courtyard Culture - Siheyuan
A courtyard or quadrangle (Siheyuan) is a traditional courtyard buildingfrom the Yuan Dynasty(1271-1368).The Mongols built the capital in Beijingand from then on,the officials and residents started to build courtyards.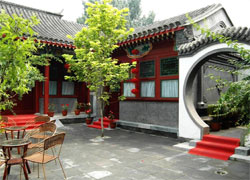 The pattern of a courtyard is usually surrounded by houses.The main building is on the north, the west and east wings are rooms for sons, and the south room is usually used for servants'quarters. From all sides, the courtyard is encircled by houses, hence the name courtyard or quadrangle (Siheyuan). The courtyard is very suitable for a familiallifestyle. In the evening,the family sitsinthe shade of the yardtorest, chatand drink tea,which is an ideal way of life. The housing allocation is very interesting:the elderly live in the north room, the eldest son lives in the east wing, the second son lives in the west wing, the servants live in the south room, and the daughters live in the backyard. The design and construction of Beijing's courtyards are relatively easy; the material is very simple, it isnot reinforced with cement or iron;it's just brick,gray tiles and wood.
After 1949, the traditional courtyards in Beijing had changed. As the ownership was changed, a lot of buildings inherited from the Qing Dynasty moved from private property into public property. They are no longer old aristocratic places, but have been turned into state organs such as schools, hospitals, factories, kindergartens, clubs and other public housing.
Since the Reform and Opening-Up Policy, many people have becomerich and, following strong pursuits of nostalgia and traditional culture, have started to buy old courtyards with the intention of renovating them with indoor heating, running water,toilets, air conditioning and other modern facilities. So the courtyard has returned back to its peak as a type of private residence.
Recommended Beijing Hutong Tours
Hutong, lanes or alleys, is formed by lines of Siheyuan (a compound with houses around a courtyard) standing side by side along a straight passage. The Hutongs have witnessed the vicissitude of Beijing. Choose your preferred way to explore the Hutong alleys - by rickshaw, by bike or on foot, to see the authetic real life happening in the alleys.