Tiananmen Square
Tian'anmen was the front gate of the Imperial Palace during the Ming and Qing dynasties. Originally built in 1417 and named Chengtianmen, it was burnt down and rebuilt several times. The present gate tower was rebuilt in 1651 and renamed Tian'anmen.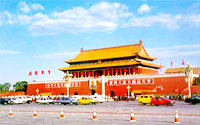 Ming and Qing emperors would issue decrees from the gate tower and pass through it when they went to the Temple of Heaven in early winter, the Temple of Earth in early summer and to the Temple of agriculture in early spring, or when he led troops on an expedition. The gate has five openings and nine tiers of eaves. Two pairs of white marble pillars stand inside and outside the central opening. Each stone pillar has a stone beast crowching on top and carvings of clouds and a dragon around it. There are also two pairs of stone lions inside and outside of the gate. After the founding of new China in 1949 reviewing stands were built on the two sides of the gate. In spring and autumn flowers in front of the reviewing stands attract many visitors. Five white marble bridges span the Golden Water River which flows in front of the Tian'anmen. In front of the gate is the world's largest open ground a the city -- the Tian'anmen Square.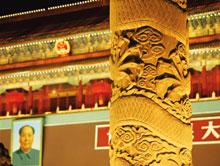 Huabiao in front of Tian'anmen
In ancient China ornamented stone pillars were often erected by a bridge, palace hall or city wall as an ornament or landmark. The huabiao in front and behind Tian'anmen were carved out of a whole piece of white marble and bear exquisite carvings in relief. They are the best of huabiao in the country. Huabiao Architecture.
It serves as the meeting place of the National People' s Congress. The immense building is divided into the meeting hall of 10, 000 seats, banquet hall for 5, 000 guests and offices of the Standing Committee members. It takes up an area of 170, 000 square meters. The national emblem hangs above the front gate.
Monument to the People's Heroes
The monument is dedicated to those who died for the national independence and freedom since 1840. It is 37.94 meters high and occupies an area of 3, 000 aquare meters. On the from side which faces Tian' anmen is eight gilt Chinese characters in Chairman Mao Zedong' s handwriting:" People' s Heroes Are Immortal". An inscription on the back side is the handwriting of the late Premier Zhou Enlai.