Beijing Hutong
The Beijing Hutong (old lane) areas have a very special and important position in the rich history and culture of Beijing.
It has record that the earliest Beijing Hutong originated in the Yuan Dynasty (1271-1368). Residential houses were set up for high-ranking officials (usually a compound with a courtyard with one-story houses) side by side. Small alleys that run between courtyards for proper draught and daylight were the earliest hutongs. Hutong was gradually adopted by old Beijing residents, and has been handed down to the present. The houses built on each side of Hutong are called Siheyuan (quadrangle), are generally rectangular dwelling compounds, with buildings on four sides. Almost every quadrangle is surrounded by high walls. In fact, Hutong is formed by quadrangles standing side by side along a straight passage. Hutong means a period of history, a cordial lifestyle and even an "encyclopedia of Beijing". Most of the hutongs remained today were built in the Ming and Qing resulted from block extension of the imperial city.
The hutongs give a wonderful glimpse into the world of yesterday in Beijing. While visiting the Beijing Hutong, you can appreciate the dramatic changes that the rest of Beijing has undergone.
Famous Beijing Hutongs
Beijing Hutong has a long history. While visit Beijing Hutongs, you can feel the dramatic changes of Beijing and experience local residents' life style and traditional hutong and courtyard culture. Here we listed some of the most famous old Beijing hutongs which you shoud pay a visit when travelling to Beijing.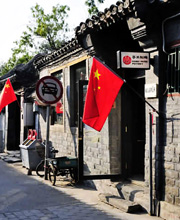 The most famous Hutong: Yandaixiejie (Skewed Tobacco Pouch Street), many different kinds of bars, cafes & restaurants, tea houses, souvenir shops on the street
The newly bubbled Hutong: Nanluoguxiang, a perfect blend of past and present, famed for the cafes, bars, clothing and handcraft shops lined in hutong laneways
The oldest Hutong: Zhuan Ta Hutong (Brick Tower Hutong), exists since Yuan Dynasty
The narrowest Hutong: Qian Shi Hutong (Money Market Hutong), the narrowest part is merely 40 centimeters (16 inches)
The longest Hutong: Dong Jiao Min Xiang (Legation Quarter), 3 kilometers
Recommended Beijing Tours including a visit of Hutong
Hutong, lanes or alleys, is formed by lines of Siheyuan (a compound with houses around a courtyard) standing side by side along a straight passage. The Hutongs have witnessed the vicissitude of Beijing. Choose your preferred way to explore the Hutong alleys - by rickshaw, by bike or on foot, to see the authetic real life happening in the alleys.