Beijing Weather by Month
Beijing has a temperate and continental monsoon climate, with four distinct seasons and big differences in temperature between day and night. Here is a brief introduction of Beijing weather in each month. Hope it will help you have a better understanding about the climate and practical tips for traveling in different time of the year.
March: Starting to Warm Up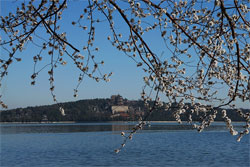 Just waken up from the winter hibernation, Beijing in March finally starts to warm up increasingly from coldness. It will be like Washington DC at the same period - sometimes quite chilly (especially the first half month of March), often windy, occasionally dusty. Sometimes pretty warm too.
The average daytime temperature is 51F (11C) and average number of rainy days is 4. Possible sandstorms often hit the city some days in latter half month of March.
You'll still need your layers in March. Daytime can be mild but the average is still below-freezing at night. Be prepared for warmer clothing at night if outside. Bring a heavy base layer, fleece, a wool hat and light gloves, and a wind-proof or down jacket.
March is the shoulder season of Beijing travel. Crowds in latter half month are higher than the first half March as the weather is warmer up. It is time for spring outing to wake your body up from a long winter.
April: Spring in Full Swing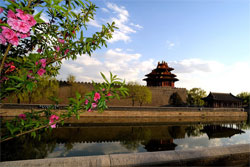 April is one of the best months to visit Beijing. Temperatures are starting to really warm up gradually with the average low at 44.6F(7℃) and highest at 68F(20℃). Warm during the day but chilly at night. You may be able to wear shorts & t-shirts during the day but you'll need a warmer base layer at night.
Spring is in full swing in April. Trees are budding and flowers are blooming. April is a perfect time to view kinds of flowers booming in Beijing parks, streets, universities and rural countryside. The flowers start to bloom from late March and early April and lasts for only 15 days to 20 days. Timing is important for viewing spring flowers. Here is a guide of viewing Spring Flowers in Beijing.
April can be a really lovely time for outdoor sight-seeing. The heavy-hitting humidity hasn't set in and the temperatures are on the whole, pretty mild. Rambling in hutong alleys or countryside (See our Hutong Tours), riding bicycles with family members or friends (See our Biking Tours) and hiking on the Great Wall sections are good picks of spring outing activities.
May: Best Time to Travel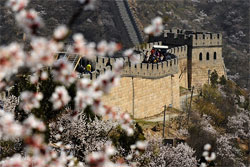 May is a great time to visit Beijing for really comfortable weather. It is warm and balmy but the heat and humidity of the summer have not yet set in. The average highest temperature is at 25 ℃ and the lowest at 15 ℃. The layers can be lightened a bit. You will feel very comfortable during the day with basically a T-shirt but you still might need a longer layer or a light jacket for cooler evenings.
Beiing is beautiful in May as the city has greened up and the flowers are in full bloom. You often get some clear blue skies. So May is a perfect time to go hiking on the Great Wall(See our Great Wall Tours). Besides Great Wall hiking, you may have excursions in the outskirts of Beijing to enjoy the natural beauty surrounding (See our Countryside Tours).
May is a peak season of visiting Beijing and other parts of China as well. We suggest that you make your tour arrangements well in advance. Labor's Day (or May Day) is a 3-day off holiday in China. You may find larger crowds at tourist sites and worse traffic.