Shopping in Beijing
In a city as large as Beijing, you know there has got to be huge amounts of shopping opportunities within the city limits. Here is the guide page of where to shop, what to shop and how to bargin while shopping in Beijing.
Wangfujing Street 王府井大街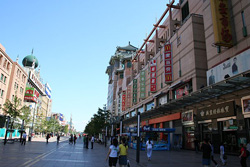 Literally meaning "Prince's Mansion well", Wangfujing is one of Beijing's best known shopping streets.
Located in the Dongcheng District in the heart of the city, the commercial center has roots that stretch back all the way to the Ming Dynasty. This pedestrian-only area is off limits to cars and motor vehicles, but can still be quite crowded with foot traffic. It is just as popular, if not more so, at night as it is during the day. Bright neon lights and a lively nightlife bring customers to this area even after the sun sets.
The walking street starts at the Wangfuijing Nankou, by the Oriental Plaza and Beijing Hotel, and continues all the way north to the Xin Dong An Plaza. Many brands unique to Beijing can be found on the walking streets. Stores such as the Shengxifu hat store, the Tongshenghe shoe shop, and the Wuyutai teahouse make their home Wangfujing.
If all this shopping has worked up an appetite, you might want to stop in at the Wangfujing Snack Street, a food court area that is jam-packed with fast food restaurants and snack stalls. Local street meats and candied fruits are a few of the favorites snacking options.
Qianmen Street 前门大街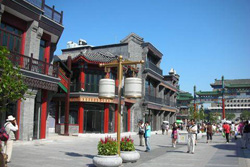 Just under a kilometer in length, Qianmen is another popular shopping street located in the center of Beijing. Running all the way from the Archery Tower to Tiantan Park. The historic center has been a site for vendors for almost 600 years. Shortly before the 2008 Summer Olympics, the street was given a facelift and reopened to the public as a new shopping center.
Local and international brands dot the street. Zara, H&M, Sephora, as well as Chinese staples such as the Ruifuxiang Store, Neiliansheng Store, Majuyuan Store and the Hengdeli Store can be found on Qianmen. Popular and well-reviewed restaurants, such as Yitiaolong, Douyichu, and especially Quanjude, with its delicious roasted duck, are a great respite from all that shopping.
For an extra special treat, take a ride on one of the antique trams that travels up and down the center.
Silk Market (Xiushui Street) 秀水街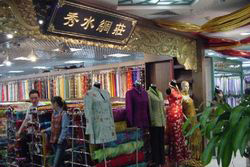 Over 1,700 retailers are housed in the Silk Street Market shopping center in the heart of Beijing. Located in Xiushiodong Jie (East Xiushui Street), near the U.S. Embassy, this popular tourist attraction receives over 20,000 visitors on weekdays, and up to 50,000 on weekends.
Any and everything is available here, and haggling is a great way to get what you want, at a great price. The vendors are enthusiastic and try to make the sale at any cost.
One reason that Silk Street is so popular with tourists is that many flawless designer brand knock-offs can be scored here. Although, this practice isn't always welcomed by the Chinese government, it is still a big crowd drawer.
Also, for something a little different from shopping, check out the new silk museum on the third floor of the Silk Market. It walks visitors through the long and rich history of China's silk industry over the last few hundreds of years.
Panjiayuan Flea Market 潘家园旧货市场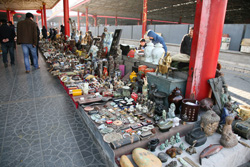 A modern flea market magnified to enormous proportions, the Panjiayuan Market is a just the place where ultimate bargains can be found.
Located in southwest downtown Beijing, just east of LongTan Park, the market is brimming with activity everyday. Locals sell art, antiques, crafts, home goods and anything else you would expect to find at a bazaar. Some vendors have tables or stalls, while others set up shop on mats on the ground, which lends to its affectionate local nickname, the "Dirt Market".
Half inside, half outside, the market is best visited on those nicer, sunny days. It is worth a visit whether you have something in mind or not. Who knows, you might just find that special something you never knew you couldn't live without. And with tourists and locals browsing together, the atmosphere here is unlike any other place in Beijing.
Curio City 古玩城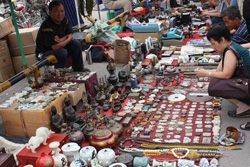 Now often referred to as Beijing Antique City, Curio City is the place to be if one-of-a-kind antique items are what you live for.
Just 300 meters south of the Panjianyuan, close to the Huawei Bridge, this market is the largest Chinese antique trading center in all of Asia. The outside of the building cannot be missed with its elegantly decorated façade. Within its walls, over 600 dealers sell everything from classical furniture to traditional rugs and antique watches to some of the most spectacular, heirloom furniture that Beijing has to offer.
Just as with any other market in the city, haggling is an integral part of business here. Even if you aren't looking for antiques while in Beijing, the vast amount of beautiful items found within its walls make a stop in Curio City just as good as any museum in the area.
Hongqiao Market 虹桥市场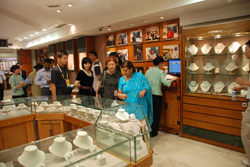 Located just across the street from the Tiantan Park in Chongwen District, the Hongqiao Market is a popular tourist destination for those travelers wanting to leave Beijing with a touch of class.
The market specializes in pearls and sells some of the finest strands from all over the world. If you can haggle with the best of them, you might just score a string of beautiful Chinese pearls at a great price.
With an area of over 4,500 square meters (close to 50,000 square feet!) this massive market not only houses 3 floors of pearl vendors, but also fresh, wholesale seafood stands, rows of electronics booths and an entire floor dedicated to silk goods. But, by far and large, the pearls are the main attraction here. There are fresh and saltwater pearls in all sizes, colors and qualities. Additionally, many stalls feature other gems and precious stones. The pearls can be bought loose or pre-set in necklaces, bracelets, pendants, rings or earrings.
Yaxiu Market 雅秀服装市场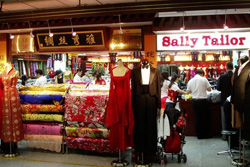 Much like the Silk Market, Yaxiu is a huge commercial center with many local and international vendors. The shopping center usually features better prices than many other malls because it is less of a tourist attraction and more of a shopping center for Beijing locals.
This large indoor market is located just west of Sanlitun Street, across from the second embassy area. Vendors and their wares are organized by floors. Accessories such as hats, bags and wallets are located on the first floor, followed by clothing on the second story. The third floor features silk, cloth and linens, and the fourth floor is packed with pearl vendors, gift shops and souvenir stands. The top floor has been transformed into a food court and caters to local and international palates.
If you are looking for a market a bit off the beaten tourist path, then why not try your hand at a more traditional market and you'll most certainly snag some unbeatable bargains.
Liulichang Street 琉璃厂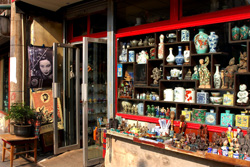 Another shopping center in Beijing that specializes in antiques, arts and crafts is Liulichang Street of Chinese Culture.
The street, located just south of the Peace Gate in Beijing's Xuanwu District, is known for its ancient books, calligraphy tools and artwork, beautiful rubbings and fine inks.
The area used to be a famous retreat for scholars, painters and writers, and it maintains that creative and poetic atmosphere to this day. Decorative, traditional houses and studios line the famous street. Rongbaozhai, the Studio of Glorious Treasures, is a famous book, scroll and paper supply center in the Liulichang Street and has been around for over 200 years.
Be sure to check out the studio, as well as other vendors in the area, when visiting one of Beijing's most traditional quarters.
Xidan Shopping Area 西单商业区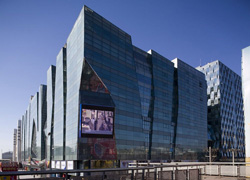 Stretching 5.5 kilometers in length, the Xidan Shopping Street has rightfully earned the nickname of 'The Second Wangfujing'.
This commercial center, located about 2 kilometers west of Tiananmen Square, is a consumer paradise featuring a mega-mall, selling all kinds of commercial goods, multiple fine dining establishments and fulfilled entertainment areas. Not only can you score the best brands that the capital city has to offer, but might also find yourself enjoying a movie, hitting up the bowling lanes, swimming in the indoor aqua center, or even rock climbing up the side of a huge artificial cliff. Bargain hunters and luxury brand lovers will both find everything that they are looking for.
The center is one of the most popular tourist destinations in Beijing, and with so much to see, buy and do, you can see why the Xidan Shopping Area has become a destination all its own.
Maliandao Tea Street 马连道茶叶街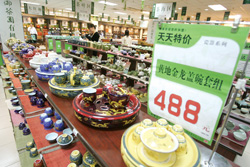 In China, tea is more than just a drink; it is a way of life. Maliandao Tea Street is the best place in Beijing to learn about China's long and historic tea culture.
In the southwest area of the Xuanwu District of the capital city, close to the Beijing West Railway Station, the 1.5 kilometer street is the largest collection of tea shops and teahouses in northern China. There are close to a thousand stores packed in this area offering local and exotic tealeaves and flavors.
You can buy varieties such as Anxi Tieguanyin Tea, West Lake Dragon Well Tea, Maofeng Tea, Pingshui Pinhead Tea, Qihong Tea, Dahongpao Tea, and Taiwan's Dongding Oolong Tea, and many more.
There are more teas than you could sample in a month's time, but it'd be fun to try! And always remember that tea sets or sample boxes make for great gifts for loved ones back at home.
Sanlitun Shopping Area 三里屯商业区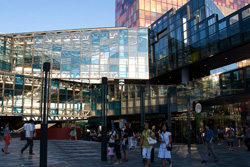 If you are looking for a more western shopping experience, then Sanlitun is the place to be in the big city.
This large commercial area, packed with international stores, restaurants, and bars, is located in the Chaoyang District of Beijing. Not only can you find designer brands such as American Apparel, Adidas, Nike and Lacoste, but the Ya Show, a market within the commercial center, is a popular place for bargain hunters.
Bars and clubs in the area are popular with expats and tourists, but also see their fair share of locals as well.
Come for a relaxing meal or drink and stay for the party! But don't worry if the club scene isn't your thing, because the daytime is just as lively and popular as the nighttime. Sanlitun always offers a fun and unique experience, no matter when you visit.
Zhongguancun Electronic City 中关村电子城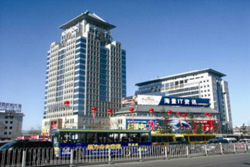 When many people think of China, they think of tea, silks, and yes, affordable electronics. In Zhongguancun, the technology center of Beijing located in the northwestern Haidian district, there are many electronic deals to be found.
Dubbed the Chinese Silicon Valley, it is a haven for IT experts, gadget lovers and anyone looking to score bargain priced, locally manufactured electronic equipment. The area includes vendors selling any and every kind of item. From small watches, cameras and cell phones to the biggest televisions, computer screens and laptops on the market, this bustling electronic center has it all. The big brands found here are a lot cheaper than in other areas of the city.
With so much competition, vendors in Zhongguancun can be quite aggressive to make the sale. Recent additions have grouped some of the smaller vendor sites into larger mall-like areas. These newly added groupings not only feature some of the best electronic bargains, but non-electronic stores and food vendors as well.
Bargain in Beijing
It seems like everywhere you turn, a great bargain on some local item is to be found. That is, if you know how to haggle the price down to a reasonable deal. Bargaining is a way of life in traditional commercial centers in Beijing, as well as the rest of China. While you might not be able to haggle prices with Gucci, Prada or other designer brands, street vendors, locals souvenir shops and specialty stores with prized goods use haggling as a way of business.
Prices on items, especially in tourist areas, are usually marked up at least 15% above their actual asking price. Start the negotiation by asking for at least that percentage off. Or, for an easy to remember method, start by removing one zero from the end of the yuan price, and being haggling from there. Prices are always negotiable and constantly changing from day to day. Prices can be set for a certain customer, they can go up or down if the area is crowded or not, and or waiver because of the popularity of an item.
While bargaining is a way of selling and shopping here, be sure to be respectful and have fun with the negotiation. Trying to get an item for far less than its worth can offend vendors, who might just give up selling to you. If you are polite, friendly and quick on your feet, you are sure to get that special souvenir well below the initial price.