Beijing Transportation
As the capital city of China, Beijing plays an important role in China's and even East Asia's regional transportation. There are several methods of transportation from which to choose to get to Beijing: by plane, by train, or by long-distance bus.
Beijing Capital Airport is the largest international airport in China, and it has over 200 flights to major foreign countries and domestic cities.
Beijing has five city ring roads, 16 highways and 11 national expresways radiating out in all directions.
By Flights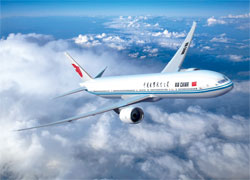 Located about 20 kilometers northeast of Beijing city center, Beijing Capital International Airport is the main air travel hub of China and one of the largest airports in Asia. The airport has a 4E-standard design, three terminal buildings, two control towers, and three runways. Most international flights land at either Terminal 2 or Terminal 3. For passengers who want to transit between these terminals, complimentary shuttle buses are available.
Airport Transportation
Shuttle bus: there are nine different shuttle bus routes connecting the airport with different locations in the city area.
Airport subway: the airport subway line offers access to Terminal 2 and Terminal 3 from Dongzhimenin downtown Beijing. It takes 20 minutes.
Airport intercity buses: Five intercity bus lines operate for convenient passenger transit to nearby cities, such as Tianjin and Qinhuangdao.
Driving to airport: There are three expressways leading to the airport. Driving from the city center to the airport takes about 30 minutes.
By Train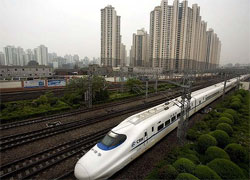 There are four railway stations in Beijing: Beijing Railway Station (in eastern Beijing), Beijing West Railway Station (in the southwest of the city), Beijing South Station (Yongdingmen Station), and Beijing North Station (Xizhimen Station).
Built in 1959, Beijing Railway Station is the largest station in China, and it connects with Moscow, Pyongyang, and Ulan Bator, and most cities of Cchina. Beijing Railway Station has nine platforms with trains to major cities of southwest, northwest, and southern regions of China, such as Guangzhou, Shenzhen, Wuhan, Chengdu, Chongqing, Taiyuan, Fuzhou, Xiamen, Guilin, Nanning, Xining, Jinan, and Urumqi.
Beijing South Station (Yongdingmen Station) was finished in 2008. It mainly serves intercity and high-speed trains to Tianjin, Shanghai, and Xi'an. It is linked to city subway lines 4 and 14.
First built in 1988 and rebuilt in 2009, Beijing North Station offers trains that travel to neighboring provinces, such as Hebei province and Inner Mongolia.
Train Ticket
Beijing Station, Beijing West Station, and Beijing North Station offer train ticket services for passengers. You can buy tickets and reserve seats up to one week in advance (about 11 days in advance during national holidays and the Chinese Spring Festival period) at any stations and get refunds on tickets (less 20% cancellation fee). Passports or other similar documents are required when booking or buying the tickets.
By Bus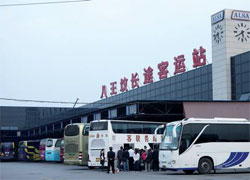 Beijing is the largest junction of major roads in China. There are more than 20 long distance bus station in Beijing, operating thousands of buses to cities nearby and further away.
Dongzhimen Bus Station offers buses to Inner Mongolia, Hebei Province, and some northwest cities.
Zhaosongkou Long Distance Bus Station is the largest one offering buses to Heilongjiang Province, Jiangsu Province, Shandong Province, Shanxi Province, Shanghai, Guangzhou, Jinan, and Qingdao. Lianhuachi Long -Distance Bus Station offer buses to Henan, Shijiangzhuang and Xingtai in Hebei, Huai'an, and Zhuangjiagang in Jiangsu.
Zhaosongkou Long Distance Bus Station (Zhaogongkou Changtu Qiche Zhan)
Add: 34 Nansanhuan Zhonglu, Yongwai Dajie, Beijing
Tel: 010- 67229491, 67237328
Bus routes: 17, 25, 43, 300, 368, 927
Dongzhimen Long Distance Bus Station (Dongzhimen Changtu Qiche Zhan)
Add: 45 Dongzhimenwai Xiejie, Beijing
Tel: 010-64671346/ 67237328
Bus routes: 44, 22, 18, 107, 359, 401, 404, 413, 418, 823
Lianhuachi Long Distance Bus Station (Lianhuachi Changtu Qiche Zhan)
Add: northeast of Liuliqiao, Xisanhuan, Beijing
Tel: 010-63464027
Bus routes: 6, 50, 300, 309, 323, 324, 340, 901
With more people own private cars, city traffic is under more pressure from large traffic volume. In rush hours around 8am and 6pm, traffic jams often happen in Beijing.