Night Life in Beijing
As capital city of China, Beijing not only has fabulous cultural and historical scenic spots, but also offers lots of night activities. In the past, it was said that the people in Beijing are conservative compared with people living in South China. Most married people like staying at home and watching TV or movies or chatting with friends. But the young people go out in the evening and spend their time at cinemas, theaters, nightclubs, song and dance halls, karaoke clubs, restaurants, sports facilities, and bars with live music. There are numerous choices of places to unwind.
Main Bar Area
Young people like to go to pubs to relax after a day's work. Here they can chat with their friends or make new friends. Salitun District, Nanluoguxiang Hutong Area, and the Houhai Bar Area are the most popular places.
Sanlitun District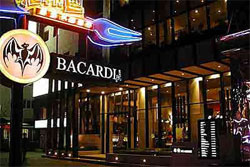 Located in the Embassy District, Sanlitun has become popular area for its different kinds of bars among locals and foreigners. It's regarded as the source of Beijing's nightlife culture, full of relaxation, charm and uniqueness. Most bars in the area open till 4am or later. If you want to experience old Beijing style, the northern area of the district is recommended. Boy and Girls, Lan Gui Fang, Milan Club, and the Tree are the most popular establishments. Popular disco bars include Day Off Bar, Top Club Beijing, Swing Bar, Baby Face, and MIX Bar.
Houhai Bar Area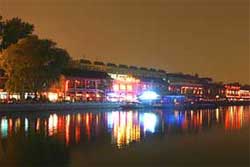 Houhai bar area is located around a man-made lake at the north of Beihai Park. Walking beside Houhai Lake, shopping in Yandaixie Street, boating on the lake, drinking in the stylistic bars, or dining at the lake view restaurants, together are the essence of the area. It seems to be taking over from Sanlitun District as the major bar area in Beijing. If you want to experience an elegant and traditional Chinese-style atmosphere, these bars are worth a try: No Name Bar, Jiading Fang Bar, Houhai No. 5 Bar, Blue Lotus Bar, and Amber Bar.
Nanluoguxiang Hutong Area
The bars in this area are full of Beijing's local style, with old courtyard houses, red lanterns and limited space. Almost all bars in Nanluoguxiang offer a peaceful and elegant atmosphere for visitors to have a drink.
KTV/ Karaoke Clubs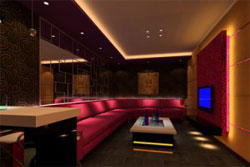 Beijing locals like go to karaoke clubs for singing songs at the weekend or at night. There are thousands of KTVs in Beijing. People can easily find a karaoke club for a party. Party World (Qiangui), Tongyishouge KTV, and Melody Karaoke club are the most popular among locals.
Night Markets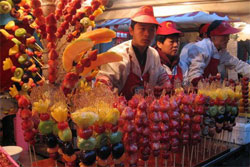 Beijing local snacks attract lots of people. There are two night markets popular among travelers, Donghuamen Night Market and Wangfujing Night Market. In these streets, people can find some odd street food, such as deep fried insects, scorpions, sea stars, and silk worms. Traditional Chinese snacks can also be found, such as Bingtang Hulu (sugar gourd), spring rolls, dumplings, stinky tofu, and mutton kebabs.