Getting Around
When in Beijing, you have many different choices to get around.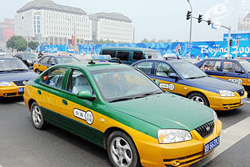 Taxi should be the most convenient transportation option in Beijing as taxis can be found everywhere in the city and the service is affordable.
Generally speaking, a trip within the city costs around 50 yuan while a cross-town trip will be around 100 yuan. Getting a cab during rush hour or night after 11pm may cost more.
The most common cars used as taxis are the Hyundai Sonata and Elantra, Volkswagen Santana and Jetta (late 1980s models), and Citroëns manufactured in China. Make sure that you hire a legit taxi.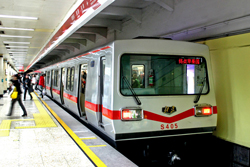 Subway can be the fastest transportation in Beijing, especially at rush hour. It beats the traffic and is much faster than a taxi or a private van.
There are currently 14 subway lines in operations that connect urban and suburban districts of Beijing City. The Airport Express Line reduces the time from airport to city center to within 30 minutes. A ride on Line 2 would take you to many must-see attractions including Tiananmen Square, the Bell and Drum Towers, Hutongs, Lama Temple, Guozijian, and Xiushui Market.
The price of the subway is 2 yuan. You can transfer between almost all subway lines regardless of the distance. Pay attention to the stops, which are announced in both Chinese and English, and make sure you get out of the station at the right exit as there are four entrances/exits in four directions at each stop.
By Bus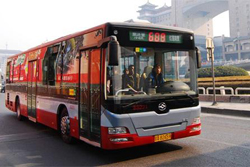 There are buses of various types traveling around Beijing, including urban lines running within the 3rd Ring Road (buses 1 to 122), night buses operating only after 23:00 (buses 201 to 212), suburban lines traveling from the downtown area to suburban Beijing (buses 300 to 810), and sightseeing buses (buses 900 to 998), which take passengers from downtown areas to scenic spots such as the Great Wall.
Bus fares can be either a flat or measured fare, which varies from flat fare 1 yuan to a measured fare according to the distance to your destination. Paying by a Beijing transportation smart card enjoys 60% discounts on all routes.
All the bus stops' signboards are in Chinese only. Taking a note of your destination written in Chinese beforehand and inquiring local people might help. Announcements for the stops are in both Chinese and English.
By Pedi-cab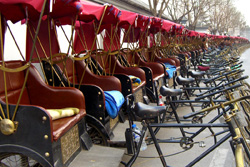 Rickshaw is a traditional vehicle and has been very popular in recent years among visitors. Rickshaws nowadays are practically confined to the tourist areas and used mostly for traveling around the old Beijing hutong area. A ride on a rickshaw is a great way to see Beijing hutong with a different perspective.
Rickshaws can also be found around the Tian'anmen Square area. It is nice to take a ride around the Square in the evening.
Bargain for an exact price before hopping on a rickshaw. A rickshaw is often more expensive than taking a taxi, especially during holidays, but one can gain a bit flavor of life in old Beijing.
Make sure you get the legally registered rickshaw as there are fleets of them. It can be identified by a certificate attached to the rickshaw, and the driver has a card hanging around his neck.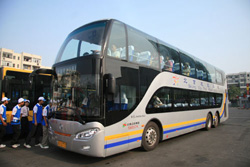 Sightseeing buses are a special public service providing convenience for tourists who want to visit the major Beijing attractions in or around Beijing. The former 18 different special tourist buses, which were usually designated with the Chinese character '游', have been replaced by the Beijing Sightseeing Buses 900–998) since September, 2005.
By Bicycle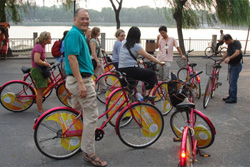 As known as the "bicycle kingdom", Beijing is one of the best places to get around by bicycle. Riding a bicycle can avoid jams and save time especially during rush hours, and is good for the health and environmental protection. More and more local people are riding bicycles to work or at the weekend to suburban areas.
There are many places in Beijing offering bicycle rental services, including bicycle rental outlets, hotels and scenic spots. A rental fee varies according to the bicycle type you choose and the rental time. Usually, it can be around CNY5-10 per hour, CNY10-20 for a half day (4 hours) and CNY20-40 a day. A CNY400-500 cash deposit will be required. Some bicycle rental outlets and hotels may accept credit cards.
By Waterway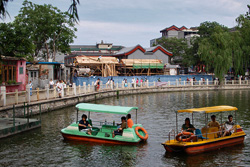 Traveling around Beijing on boats was for royal families only in ancient times. Nowadays, it is more and more popular among local people and visitors especially in summer time.
There are currently three waterways available, which are Changhe River, running between Beijing Zoo and Summer Palace; Kunyun River from Yuyuantan Park to Kunming Lake at the Summer Palace; and Shichahai Lake, from which you will get a panoramic view of local people's life along the river bank.
The water cruises operate from April to early November every year. Changhe River and Kunyun River operate in daytime, while Shichahai Lake cruises are available both daytime and nighttime. A night cruise along Shichahai Lake is a nice experience and a great way to escape from the summer heat.