National Stadium (Bird's Nest)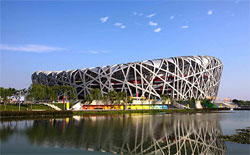 The National Stadium, known in China and around the world as the Bird's Nest, is situated in the Olympic Green Village. It was designed as the primary stadium for the 2008 Beijing Olympics and used for track, filed, football, and weight throw and discus events. Since the Olympics finished, the stadium has been open to tourists and is used for sporting competitions and recreational activities.
The Design and Construction
The stadium was a joint venture between three architects: Jacques Herzog, Pierre de Meuron and Li Xinggang. It looks like a massive bird's nest, which is said to embrace and look after human beings.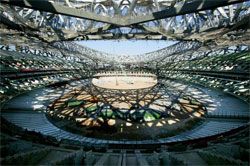 The construction of the National Stadium started at the end of 2003 and was completed in March 2008. It covers an area of 258,000 sq meters containing seating for 80,000 people and at a cost of about 33 million dollars. A further 11,000 temporary seats can be added when needed, which should give you some idea of the colossal size and accomplishment of the stadium. The tallest point is 68.5 meters above the ground and covered in waterproof transparent material and at the lowest point 42.8 meters.
The stands are shaped like a bowl and the zones surround the court and seating. Other features are changeable to suit different numbers and sporting needs. The seating areas were cleverly designed, so that no matter where you sit in the stadium, you will get a perfect view of the court and activities with no visual obstruction.
It is said that the Beijing National Stadium doesn't only symbolise the 2008 Olympic Games, but sets a precedent of modern architectural history and achievement. On visiting the stadium, it is easy to see why.
The Bird's Nest Today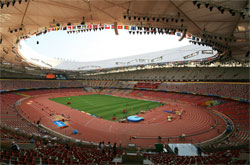 A walk around the Olympic Park on a weekday, it is difficult to imagine that it was home to one of the greatest sporting events on earth a few years ago. Like many other cities that haven't known what to do to make new buildings lucrative, after hosting the Olympics, the Bird's Nest has gone the same way. That's not to say that it isn't worth a visit, because it most certainly is, the Bird's Nest is truly inspiring and you can mix it in with a visit to the National Aquatics Centre, fondly known as the Water Cube, where many medals were won during the event.
There are guards' recognisable wearing black combat clothes on hand to point you in the right direction, but apart from that, there is little roar of car engines or children screaming, it can seem surreal and quite a silent destination. Visitors are happy to pay a small fee to wander around the site at quiet times to say that they have been. It is a spectacular site and many Chinese are rightly very proud of what China achieved in 2008.
The Happy Ice and Snow Season Gala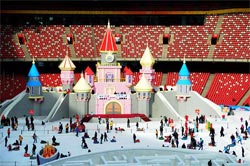 Remarkably, the Bird's Nest has become home to the winters Happy Ice and Snow Season gala, featuring a 100 meter high ski slope with a ten degree angle. Literally, tons and tons of artificial snow is moved into the stadium for the crowds that ascend on this Winter Wonderland. A "magic blanket" is set on the east side to take you up to the top of the slope and snowboards, skis, snowshoes, suits and gloves are available to hire in abundance. Look out for the snow castle, man made artificial ice rink, the giant play ball on the ice rink and the snow playground.
It's a lot of fun, but not cheap. Admission is 50 RMB, but that will only get you into the stadium. A ticket including skiing activities will cost you 120 RMB Monday to Friday and 180 RMB at weekends.
The winter wonderland is host to Chinese New Year festivities. A 65 foot high snow mountain is built as a backdrop for concerts and events throughout.
This provides fun for locals and visitors to enjoy during the winter months. Locals love it as they don't have to travel far to ski and children love snow, real or not. Skating, snow fighting and ice sculptures can also be enjoyed and what a place to spend Chinese New Year.
Travel Information
Address: The Olympic Green Village, Chaoyang District
Admissions:
CNY50 for a visit to the National Stadium;
CNY80 for skiing on weekdays, CNY140 for skiing on weekends and public holidays;
CNY120 for a visit to the National stadium and skiing on weekdays, CNY180 for a visit to the National Stadium and skiing on weekends and public holidays
Opening Times: 9:00 to 18:00 weekdays; 9:00 to 21:30 weekends and public holidays
Transport: Take Subway Line 10 to Beitucheng and switch to Line 8 and get off at the Olympic Sports Center Station. Take the B1 or B2 exit.