Wangfujing Street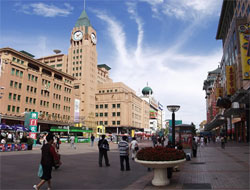 Wangfujing is without doubt the very centre of Beijing. It's an 800 meter long street with many stores and malls and street vendors selling everything that you can imagine: clothes, shoes and accessories, tea, books, souvenirs and some food produce that you quite possibly won't have tried before. Wangfujing is on power with any other great shopping centre around the world and whatever you want you should find it here.
Wangfujing has the distinct advantage of being predominantly off limits to motor vehicles and the streets are entirely for your enjoyment; with squares, flowers, fountains, sculptures and benches added to liven up the concrete buildings.
The Oriental Plaza
Starting from the Wangfujing Nankou end of Wandfujing Street is one of the largest shopping malls in Asia, the Oriental Plaza covering an area of 120,000 sq meters. Comfortable shoes are recommended, although to make the shopping experience a little easier he mall is sectioned into several areas.
The first area is conveniently placed by the subway and its family orientated area is the main attraction for visitors with the Sunlight department store that targets the young and fashionable and everything they could want including a beauty store, Olè supermarket that sells high end food produce and drink and Rado selling watches, rings, necklaces and other types of jewellery.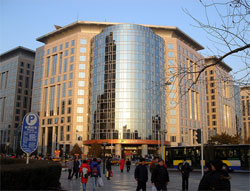 The second area is contemporary and popular with Beijing's young with stylish brands and modern furnishings with the large OMEGA store selling beautiful watches and many others selling top end clothing; Cerruti and Kent & Curwen are stores that you maybe familiar with.
The third area in the centre of the mall connects with the five star Grand Hyatt and features high end international fashions, Burberry, Dunhill, Ermenegildo Zegna, Givenchy and Moschino and if you prefer something a little more sophisticated then Hugo Boss, MaxMara and Tiffany are all in the fourth section. You'll find sportswear and equipment in the fifth section with adidas and nike prevalent and every other type of entertainment you can imagine.
After all that shopping you probably feel like some refreshment, so head for Sky Avenue within the mall that offers cafes and fine dining in abundance; Esquires Coffee House is a brand that seems to be popping up around the globe in busy shopping areas and My Humble House a good place to try modern Chinese food. For the ladies there are places to go for a pampering; nails, hair and facials and the views over the city are great from here.
The Wangfujing Department Store
The Wangfujing department store is spread over four floors; the first for cosmetics, perfumes and aftershaves, the second for ladies wear, the third for menswear and the forth is where you will discover a combination of children's clothes and toys and a selection of household items.
The Wangfujing Snack Street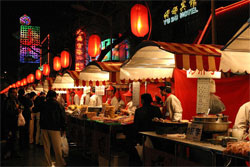 For all things food the Wangfujing Snack Street with its many colourful restaurants and food street vendors has it all; meat, kebabs made from lamb, desserts, fruit candies and things a little more exotic; deep fried insects on sticks, scorpions and various creatures from the sea are all here, so you may as well try them while you are here, as you won't find much of it back home.
If you don't like the idea of eating a scorpion kebab or tucking into a starfish, don't be put off eating here. This is a busy, bustling area and a great place to people watch and try some local delicacies. Make sure you try fried ice cream, it's delicious.
The Wangfujing Book Store
Don't presume that this place sells only books in Chinese, this place has been up and running for over fifty years and caters for expats and visitors well; with books on literature, history, politics, travel and art on offer. Most are published by Chinese publishing houses so the front cover maybe a little different, but that's about the only difference between it and its UK counterpart.
The Old-Beijing Street
Located on -1/F, Xin Dong An Plaza of Wangfujing Street, the Old-Beijing Street is an underground street built in old style Chinese style; selling shoes, hats, silk, calligraphy sets, teas, pickled vegetables and delicious roast duck. It feels like stepping back in time.
Wangfujing Street at Night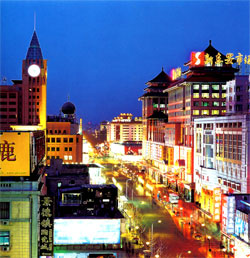 The department stores, stores and shops close at 21:00, but a small night market stays open that caters specifically to tourists so take a wander at night a long some of the Wangfujing side streets near the southern end of the pedestrians section and have a look at stalls selling souvenirs and snacks. You won't find anything out of the ordinary here, although seahorses on sticks are a feature and most things on offer you will have already seen else where, but the atmosphere is lively and fun and it's a nice way to spend your evening if you fancy a stroll.
Remember this is a market so normal battering and haggling over prices is permitted, so make sure you get yourself a bargain.
Transport
Subway Line 1, get off at Wangfujing Stop.