Xiushui Street (Silk Market)
Xiushui Street (Silk Market) is a popular shopping market in Beijing that it is important as the Forbidden City and the Great Wall of China.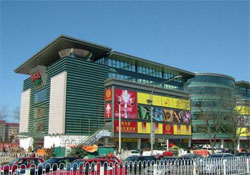 It locates in No. 8 Xiushui East Street, which is a short walk from the Chaoyang business district with its many foreign embassies and consulates (where you'll need to go if you loose your passport or find yourself in some other unfortunate incident), large and looming hotel chains and office buildings. Xiushui Street is accessible by taking subway Line 1 to Yonganli Station and the northwest exit will take you straight to the underground Xiushui market.
History
The Xiushui Silk Street dates back to 1982, when a group of young people got together and decided to start a business at Silk Eastern Road and open stalls selling foreign imports and silk. Gradually more vendors moved in, selling traditional Chinese silks and craft objects, and in 1985 Silk Street was officially born.
The surprising thing is that it has grown from one or two stalls to one of the top attractions for visitors in Beijing in a relatively short time. No doubt due to its attractive prices.
The New Silk Market Mall
Next to the original market is the Beijing Silk Street new mall which opened in 2005. It has five floors above ground and three underground. It is at about 28,000 sq meters containing 1,500 stalls for your shopping requirements. The Silk Market has some of the finest silk products and a massive amount of different categories of goods on sell. You'll find shoes, bags, accessories, leather, clothing, knits, ties, handicrafts, jewellery, antiques, calligraphy prints and paintings. Besides, coffee shops and restaurant chains such as Lavazza, Subway and Beijing's famous Quanjude roast duck are included.
Silk Market

Floor 1
Clothes, Boutiques, Cafes, Information Desk
Floor 2
Clothes, Children's clothing, Toys, Currency Exchange, Beauty Parlour
Floor 3
Tailor, Silk Culture Museum, Silk Carpets, Ties & Scarves, Chinese Traditional Stores
Floor 4
Jewellery, Arts and Crafts, Folk Handicrafts, Tea, Paintings, Calligraphy Prints, Jade, Electrical Appliances, Digital Products
Floor 5
International Jewellery, Watches, Bags and Suitcases
Floor 6
Shoes, Accessories, Supermarket, leatherwear, CD/DVD Shop
B1
Quanjude Rost Duck Restaurant, Tongrentang Pharmacy, Patio Pizza
What to Buy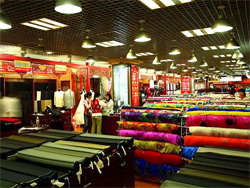 There is a wide range of goods available, but the most attractive goods is silk on the third floor. Some of China's longest established silk brands specialising in high quality silks are at the market and names to keep an eye out for are Ruifuxiang for its high quality silks, Shengxifu with a ninety year history for its hand made crafts and selection of silks and Neiliansheng established centuries ago for its Chinese cloth.
This place is so silk orientated that you can make some in the museum and learn about the Chinese silk culture, have a suit made of silk at the tailor's on the third floor and silk clothes are sold all over the third floor.
Apart from silk, you are recommended to stroll around the fourth floor where you will find other Chinese traditional articles like Chinese tea, porcelain, Chinese paintings and calligraphy and Chinese jade.
Shopping Tips
If you want to shop like the Chinese do, then the first and second floors are essential viewing. You can bargain with other shoppers at the Boutique Corridor and the most important thing here is to bargain. It is actively encouraged and expected and you should aim for 10% below the asking price on everything.
The market offers a massive amount of international brands and the market become famous for these. They may look real, but generally they are fakes. But you still can buy something very worthy.
Browse before you buy, as different stalls offer different prices on the same or similar items. If you're shopping for electrical items, make sure you look them over before handing your money over. Standards aren't the same in China as they are in the west.
Travel Information
Opening Times: 9:30 to 21:00
Transport: Take the Beijing Subway Line 1 to Yonganli Station.