Badaling Great Wall
Badaling, 11 km from the Juyongguan Great Wall, is located in Yanqing County, Beijing. It is one of the earliest parts of the Great Wall opened up to public, and is currently the best preserved section.
The portion of the wall running though the site was built in 1505, during the Ming Dynasty, along with a military outpost reflecting the location's strategic importance. The wall is on average 7.5 meters high, 4 meters thick, 6.5 meters wide at the base, and 5.8 meters wide at the top.
History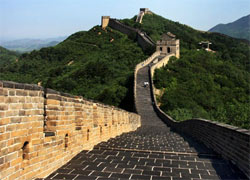 The Badaling Great Wall played a significant roll in the ancient history of China. It lies in a valley that forms a natural pass and was first built in the Qin Dynasty (221BC-206BC) functioned as a fortification. At that time, Qin Shihuang, the first emperor of the Qin Dynasty, unified the whole nation and began to build the Great Wall to protect the nation from the intrusion of the northern nomadic tribes.
Most parts of the preserved Badaling Great Wall were built and reinforced during the Ming Dynasty to protect the capital from invasion by the Mongolian people.
Signal Fire Platforms
Along the wall, there are a lot of signal fire platforms stretching across the pass valley and following the peaks of the mountain tops. The signal fire platforms were an important part of the whole Great Wall, and were used to transmit military messages. The army in the Ming Dynasty used fire and smoke as the most efficient way for communication.
The amount of smoke and fire released conveyed specific military information about the enemy. One single shot of smoke with one single shot of fire implied about 100 enemy. Two shots of smoke and two shots of fire meant 500 enemy. Three shots of smoke and three shots of fire indicated more than 1000 enemy.
The Great Wall is a symbol of Chinese civilization. In 1987, Badaling Great Wall was enlisted in the World Cultural Heritage Directory by UNESCO. It has drawn tens of millions of tourists both from home and abroad since it opened to the public.
Map of Badaling Great Wall
Badaling Great Wall Tours
Badaling Great Wall is 60km (38 miles), 1 hour drive from downtown Beijing. It is the first section opened to public. As the most popular Great Wall section, so far, about 80 million visitors from all over the world, including 300 heads of state and other celebrities from foreign countries have visited there. Cablr car is available if you need.