Beijing Hot Spring Spa Resorts
Jiuhua Hot Spring Resort 九华山庄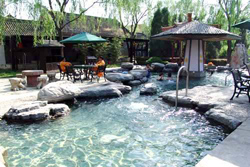 Can you imagine bathing where emperors and empresses once bathed? Well that dream can become a reality at Jiuhua Resort. Qianlong Emperor and Empress Dowager Cixi used to frequent the waters.
Steeped in a rich history, the hot springs here have been soothing body and minds for hundreds of years. There are over 80 hot springs with almost 20 various types of healing and tranquilizing herbal baths. Most of the pools are located outdoors under imperial architecture and spewing dragon fountainheads. Facilities are clean and well maintained and offer options of massages, snacks and beverages.
Visitors can also see the pools without getting wet. A monorail transports tourist up and over the baths to get a glimpse of the history and mineral rich waters. It is a favorite to Beijing's up-and-coming citizens. Being a bit out of Beijing, the resort also offers over 2000 guestrooms and suites for overnight visitors as well as 10 restaurants and a large convention center.
Entrance Fee: 188rmb for unlimited daily use on weekdays or a 3 hours pass on weekends.
Opening Hours: 8:30am – 1:30am
Address: Xiaotangshan, Changping district, 35 kilometers from downtown
Telephone: 1-888-261-3880 (International number)
How to get there: Take bus No. 984 to it's final stop. Or ride the Line 5 all the way to it's end at Tiantongyuan Bei. From there the resort is still a taxi ride away. Will cost around 25RMB to get there.
Chun Hui Yuan Hot Spring Resort 春晖园温泉度假村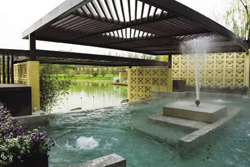 Known as one of the most romantic hot springs in the entire area, Chun Hui Yuan Hot Spring Resort is perfect for couples. There is no kitch, no loud music or lively groups. The hot springs are quiet and tailored for adults.
Pools are found inside and outside and are all used for different remedies. Some are large, some are small, some with still waters others bubbling, some with flower petals, others with traces of healing milk or red wine. Enjoy the outdoor pools at night, especially those overlooking the lake and surrounding area.
Chun Hui Yuan also offers three grades of saunas, hot stone beds and snack and beverage bars. While the facility is very upscale, the décor is not by any means over the top. The emphasis here is on the natural beauty of the mineral baths.
Entrance Fee: 168rmb (weekly), 268 rmb (weekend)
Opening Hours: 9:30am - midnight
Address: Yu Zhuang, Gaoliying Town, Shunyi district
Telephone: 010-69454433
How to get there: Take bus 942 out of the Dongzhimen station and head to Yu Zhuang. The resort is a small hike, 2 km, up to the left.
Feng Shan Hot Spring Resort 凤山温泉度假村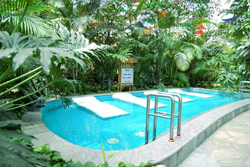 In the hills surrounding the city are tuck-away spots of warm, mineral water perfecting for soothing the tired mind and body. Close to the Ming Tombs, The Fengshan resort has over 70 different indoor and outdoor hot spring pools. They range from cold-water baths to scorching hot steamers. While the décor tries to bring the outdoors in with replicate rocks and plants, why not enjoy the real thing and head outside for mountain views and fresh country air.
The facilities also offer hot stone kang beds, steam saunas, indoor tennis courts, an archery range, an indoor golf driving range, 60 person cinema, snack bars, masseuses and exercise equipment. Accommodations can be made at the resorts 4-star hotel or in one of its 12 villas for an overnight treat. Pools are open 24 hours, and a midnight dip can be a unique experience!
Why not venture out of the city to enjoy mineral hot springs beneficial to your health and overall wellbeing?
Address: 10 Mangshan Lu, East of Shuiku Roadm, Changping, Beijing
Hours: 24 hours
Telephone: 010-60711188
Admission: 268rmb
Getting There: Located a little over 35 kilometers from the city center. Hire a cab, or take the Changping subway line to Nanshao, the last stop, and continue by cab from there. Or take Bus 925 from Jishuitan station all the way to the end of the line, which will bring you to the hot springs.
Number 8 Hot Spring Club 8号温泉度假村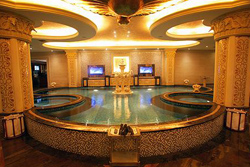 Even though this spa is located within the hustle and bustle of the city, the cool and relaxed ambiance of Number 8 Hot Spring Club will have you imagining yourself in a secluded bathhouse. The natural hot spring is from here, not imported, and tapped at more than 2,500 meters below ground. The décor is tasteful and cozy, with a quiet sophistication. Men and women bathe separately and bathing suits and swim trunks are not allowed. Number 8 goes a natural!
Other amenities include massage options, salt scrubs, a Finnish sauna and a buffet, some services costing an additional fee. The price might be higher than others, but so is the level of relaxation.
Entrance Fee: 198rmb for an 18-hour pass.
Opening Hours: 24 hours
Address: 8 Chaoyang Gongyuan Xi Lu, Chaoyang district, west of Chaoyang Park
Telephone: 010-65918888
How to get there: Take a taxi or take one of the many buses whose routes pass by Chaoyang Park. Number 8 is on the by the west entrance to the park.
Longmai Hot Spring Village 龙脉温泉度假村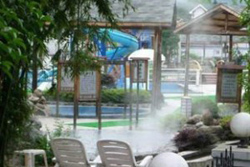 Longmai is known for its outer Bamboo Grove Hot Springs and the indoor Hot Spring swimming area. All pools are filled with natural hot spring water rich in minerals said to help relieve skin, internal and joint problems.
More laidback than other hot springs, Longmai is known for its family friendly atmosphere. Slides racing into deeper pools, an ever-popular wave pool, along with dry land activities such as bowling, ping pong tables and pool are sure to please the kids in your group and maybe even those adults young at heart.
The hot springs are lively and can be filled with young children. While fun and still enjoyable, it may not be the best choice for those looking to totally unwind and relax.
Entrance Fee: 120rmb for an either outdoor or indoor pass. 200rmb for the complete package
Opening Hours: 9:00am - midnight
Address: Xiaotangshan Zhen, Changping district
Telephone: 010-61282666
How to get there: Take subway Line 5 and travel to Tiantongyuan station. Walk to Dongsanqi Nan Zhan and take either bus 52 or 985. Get off at the Xiaotangshan Zhengfu Zhan stop. The facility will be to your right, up about half a kilometer.