White Dagoba Temple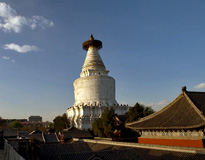 White Dagoba Temple is located in the West District of Beijing Municipality. It was completed in the year 1279. Unfortunately, in the year of 1368 the temple was burnt to the ground, but amazingly only the White Dagoba remained. In the year 1457, Emperor Tianshun commanded the people to rebuild the temple which covered an area of 13,000 square meters, much smaller than the original dimensions.
The temple is mainly composed of the White Dagoba and four halls. The most famous is the golden Dagoba Longevity Statue with over 40 rubies and bronzy Kwan-yin Bodhisattva Statue with a thousand hands and eyes.
White Dagoba Temple has now been listed as a key cultural spot and under the protection of the Chinese State Council. With its high cultural value White Dagoba Temple is definitely going to amaze you.
Location: Fucheng Men Nei Dajie 171, Beijing
Transportation: Take subway Line 2 (Loop Line) at the Fuchengmen Station
Phone Number: 010/6616-0211
Open Hours: 9am-4:30pm