China Train Types
Top Searching
Beijing Trains
Xian Trains
Shanghai Trains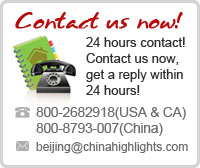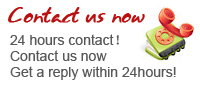 China's first railway was built in 1876, and, after a period of rapid development, China's railway network now keeping pace with international levels, and there is plenty of future programmed development.
In China, train numbers are usually indicated with Arabic numerals, and trains of the two different directions on the same route are distinguished by consecutive odd and even numbers.
The capital letter of the train identifies the train type. It is designated according to the speed and the numbers of stops of the service.
G Trains — High Speed Train (Gaotie)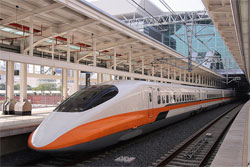 The first high speed train service in China, officially simply called CRH (Chinese Railway High speed trains), ran on December 26, 2009, between Wuhan and Guangzhou. The maximum operating speed is up to 350 km /h.
The latest generation CRH is recognized as the fastest commercially operating train in the world, as well as having the highest technology and the most advance system. The high speed train was designed to meet the latest requirement for long-distance travel, with large capacity, and short travel time.
The layout of the high-speed train interior is very luxurious, equipped with facilities for work, and spacious and comfortable seats. The trains have vibration damping to cut off noise from the high-speed operation, so they are very quiet. Taking a high speed train is convenient, and offers the most pleasant journey of China's rail network.
D Trains — High Speed Bullet Trains (Dongche)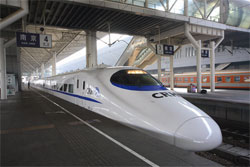 High Speed Bullet Trains are a new type of train that first operated on April 18, 2007. The earlier generation CRH has a maximum running speed of 200–250 km / h.
The high speed bullet train has fully-computerized controls. The train seats are classified into first class and second class. The first class seat arrangement is two seats either side of the aisle. The second class arrangement is three seats one side of the aisle and two the other.
Seats can be reclined and have collapsible coffee table attached to the seat in front. The air conditioning, and all doors are automatic. Some CRH trains provide soft sleeper carriages for long-distance trips.
Z Trains — Direct Express (Zhida)
The Direct Express train first ran on April 18, 2004, when it was the second fastest train in China (160 km/h or 99 mph). Most direct express trains don't stop during the trip, but some stop at major stations. Most direct express carriages are soft seat, and some trains have hard/soft sleeper and hard seat cabins available.
Nowadays, China have more than a hundreds direct express trains serving major cities, such as Beijing, Shanghai, Xi'an, Wuhan, Shenzhen, Hangzhou, and Ningbo. The train's interior is kept spotless and crew service is outstanding, but the ticket price of the direct express is lower than that of high-speed trains and similar to ordinary express trains.
T Trains — Express Trains (Tekuai)
T trains run at 140 km/h or 87 mph, and generally only stop at major cities. They are fully air-conditioned and all types of seats (soft/hard) and sleeper cabins (soft/hard) are available.
K Trains — Fast Trains (Kuaisu)
K trains operate at a fastest speed of 120 km/ h or 75 mph. Fast trains generally stop at all major stations. More than 95% of the trains are equipped with air-conditioning. Soft/hard seats and soft/hard sleepers are available. The tickets fare is lower than the above trains, so have lower expectations of the trains facilities and service.
L Trains — Temporary Train (Linshi Lieche)
Temporary trains are a special type of train generally only operating at the busiest of times for extra railway capacity: the Spring Festival, the winter and summer holidays for students, and the National Day holiday.
They generally stop at major cities and some county towns. The running speed is the same as an ordinary express train: 120 km/ h (75 mph). Many temporary trains are not air conditioned.
L train passengers are mostly those returning home or going to the cities as migrant workers (especially around the Spring Festival) or low-income people, and therefore also known as "labor" trains.
Types of China Train Tickets
Hard Seat (Yingzuo)
Traditionally the hard seat was a long bench for two or three persons either side of the aisle. Now hard seats are padded and more comfortable, but still cramped. Short distances can be endured, but they are very uncomfortable for long distance trips. Because of its low price, the hard seats are popular among low-income travelers, especially migrant workers.
"No seat" tickets are also available during peak periods such as Chinese New Year, which allow passengers to stand in the hard seat carriages, leading to a very crowded environment.
Hard seat tickets are not recommended when you travel by train.
Soft Seat (Ruanzuo)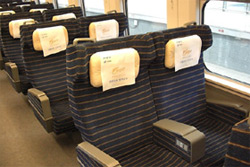 The soft seat is one level above the hard seat, and the fare is comparably higher. Soft seat carriages are cleaner and more comfortable. You can expect no over crowding in soft seat cars, and they are normally equipped with air-conditioning. Smoking is not allowed in the carriages, but there is a smoking area in the corridor between cars. Soft seat is best for a short distance trip.
Hard Sleeper (Yingwo)
It is the ideal choice for overnight or long-distance train travel. A hard sleeper carriage has several open berths along a corridor. Each compartment has six bunks, three bunks on either side of a small table by the window. Tickets are sold as upper, middle or lower bunk. Price are various according to the different types of bunks.
The hard sleeper is equipped with bed sheet, quilt, and pillow per bunk, and the cars are equipped with carpet, curtains in the windows, table cloth, and hot water available 24 hours. Air conditioning is provided, and the washroom is tolerably clean. Smoking is not allowed in the carriages, but there is a smoking area in the corridor between carriages.
Soft Sleeper (Ruanwo)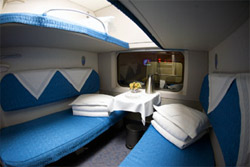 Generally soft sleeper carriages have nine rooms (some have eight rooms) along a corridor. Each room has two upper bunks and two lower bunks. The beds are wider than hard sleeper beds and more comfortable. Each room have a sliding door.
Each bunk has a small reading lamp. There are buttons for adjusting temperature and radio volume set at the side of the door. There are two toilets per car, one Western-style, the other squat-style, with toilet paper. Besides the items that a hard sleeper has, the soft sleeper is also equipped with clothes hangers, slippers, a clothes brush, a hot water flask, and porcelain tea cups.
It is highly recommended for comfort on long journeys by train.
First Class Seat (Yidengzuo)
First class seats are available in high-speed trains: D trains (Dongche) and G trains (Gaotie). First class seats are designed to be as spacious as an airplane seat and very comfortable, arranged four seats per row. There is better air quality in the carriages. Each seat has a power outlet for passenger use.
Second Class Seat (Erdengzuo)
These are available in high speed trains: D trains (Dongche) and G trains (Gaotie). Five seats per row, the second class seat is not as spacious as the first class, but still very comfortable. Smoking is not allowed.
VIP Seat
VIP seats are only available in G trains (Gaotie). Each carriage has 24 airplane-style first class reclining seats. The sense of comfort and safety is much better than that of first class seats on an airplane.
Passengers only need to touch a button and the seat will slowly recline to horizontal, and change into a small bed. The seat armrest has a folding LED TV and coffee table with a reading light. The ticket price of VIP seats is the highest among all train seats.
Notes for Passengers
Train staff speak little English, but railway station announcements often provide English translations when the train is ready to board.
A separate waiting lounge is available in railway stations for passengers with soft sleeper tickets. Preferential boarding is available for those passengers.
The baggage space on trains is limited, and your luggage must be stored in your compartment, so it is wise to keep luggage volume down.
In most stations you will need to climb up and down a considerable number of stairs, but each station has a ramp each side for wheeling luggage. Consider bringing baggage with wheels.
Please don't forget to bring toilet paper, since it is not available in the washrooms.
Pickpockets operate at train stations and on trains, so please keep your baggage and valuables safe.