Tianjin International Cruise Home Port
Port Detail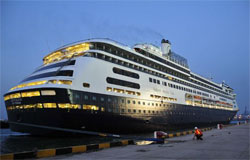 Tianjin International Cruise Home Port, after its opening on June 26, 2010 has replaced Xingang Port to serve as the port for International Cruise Liners. Since it is situated in a newly developed and remote area, the pier is not easy to find even for local drivers. It takes about 2-3 hours driving from Beijing to the pier under normal traffic conditions. There are 2 cruise ship terminals in Tianjin. Please make sure that you get to the right port— Tianjin International Cruise Home Port Terminal, instead of Xingang Passenger Terminal.
Tianjin International Cruise Home Port, with the finishing of the first phase of the project, is the first home port for international cruise liners in north China. The Home Port covers an area of is 761 thousands kilometers which includes passenger cruise terminal, port service center, hotel, duty free shop, restaurants, etc. It is accessible for the world's largest vessels and has an annual capacity of 500,000 passenger trips. The Costa Romatica of Costa Cruise and Legend of the Seas of Royal Caribbean International Cruise have chosen Tianjin port as its home port for their Asian cruise itinerary. Check our detailed Tianjin Cruise Ship Calendar.
Other international cruise liners such as: Diamond Princess, Ocean Princess, Sapphire Princess, Oceania Nautica, Costa Classica, Volendam and Azamara Quest and Arcadia also dock at the new home port, replacing the former Xingang port. Xingang Port (Xingang Port Passenger Terminal) now serves the domestic ships. Xingangor or Xingang Port will continue to be in use due to its popularity.
Port Address
Tianjin International Cruise Home Port, South End of Asia Road, Dongjiang Bonded Port Area, Tianjin, North China.
地址:中国天津市东疆保税港区亚洲路1号(最南端)天津国际油轮母港
Distances/Fares for Reference
Tianjin International Cruise Home Port is located in the southern part of Dongjiang Port (east port), Northeast of Tianjin Port (Xingang Port). It is about 26km northeast of the former Xingang Port, 20km (12.5 miles) east of Tanggu (a city of Tianjin and a transportation hub to Beijing), 60km (37.5 miles) east of Tianjin city, and 170km (106 miles) southeast of Beijing. We offer port pick-up and transfer services as well as Beijing or Tianjin land excursions on your disembarkation from the ship.
| | | |
| --- | --- | --- |
| From/To | Distance (miles) | Taxi Fares |
| Beijing International Airport/ Pier | 150 | 1200-1500 Yuan |
| Beijing City Center/ Pier | 106 | 800-1000 Yuan |
| Tianjin Station/ Pier | 31.5 | 150 Yuan |
| Tianjin City Center/ Pier | 37.5 | 180 Yuan |
| Tanggu Station/ Pier | 22 | 50 Yuan |