Bianyifang Duck
Bianyifang Roast Duck Restaurant is one of the time-honored and most famous roast duck restaurants in Beijing. Established in the fourteenth year of the Yongle period in the Ming Dynasty (1416 AD), it has a history of nearly 600 years.
Technic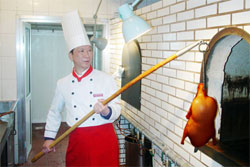 Beijing roast duck is divided into two types. One is the roast duck made with a closed oven, where the heat is from the inner oven wall. Bianyifang is representative of the closed-oven type, with ducks roasted without using an open fire.
The other type is roast duck made with half-open oven (an oven without a door) where the duck is hung over the heat, using fruit trees as charcoal. It requires higher technical expertise to roast a duck using a closed oven. The heat in the oven is composed of the fire and the heat from the inner oven wall which requires a well-controlled temperature to make sure the roast duck is crisp and tender.
Before being put into the oven, a duck is filled with a specially-made soup to make it possible to roast the duck outside and boil it inside at the same time. Roasting in a closed oven reduces impurities resulting from open fire roasting. With crisp skin outside and tenderness inside, having flavorsome fat without being greasy, and a fresh and delicious taste, the closed-oven roast duck of Bianyifang enjoys a great reputation for being a green food.
Dish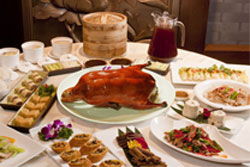 Besides the main roast duck dish, Bianyifang has created a series of additional duck dishes, such as Crispy Roast Duck with Flower Fragrance, Crispy Roast Duck with Vegetable Fragrance, Salty Duck Liver, Crystal Duck Tongue, Duck Feet with Mustard Sauce, Drunken Duck Heart with Rice Wine, and Dry Fried Four Duck Treasures. You should have a try when paying a visit to the restaurant.
Restaurant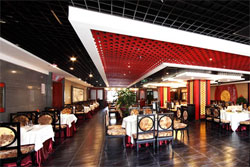 There are many Bianyifang branch restaurants in Beijing. The oldest branch is Hademen Bianyifang Roast Duck Restaurant, which can be found in Chongwenmen.