Beijing Snacks
Beijing snacks, a type of Beijing cuisine, enjoy a very long history. They used to be very famous in the past. Beijing snacks include the snacks of many Chinese ethnic groups, such as the Han, Mongols, Hui, and Man, as well as court snacks from the Ming and Qing dynasties. Some people regard Beijing snacks as "living fossils".
Quick-Boiled Tripe (Bao Du)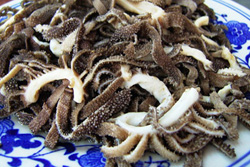 Quick-boiled tripe has been a popular Beijing snack since the time of Emperor Qianlong of the Qing Dynasty. As it's a kind of Islamic snack, only the tripe of sheep or cattle are used as the ingredients. The tripe is cooked in boiling water after being cleaned and cut into slices. It's often served with vinegar, mashed garlic, chili oil, sesame sauce, and other seasonings.
Fried Sauce Noodles (Zhajiang Mian)
Fried sauce noodles a famous Beijing snack consisting of thick wheat noodles topped with a mixture of ground pork that is stir fried with zhajiang sauce mixed within it. Zhajiang is salty fermented soybean paste. Some Chinese restaurants may refer to zhajiang mian as "brown meat sauce noodles". It is favored by most people in the north of China.
Pancake (Shaobing)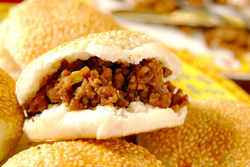 Pancake or shaobing is a very common snack in Beijing. It is a baked, layered flatbread with or without sesame on top. There are many varieties and each having a different filling. Examples of fillings are red bean paste, black sesame paste, and jujube paste. People often eat pancake with soy milk or porridge as breakfast.
Sticky Rice with Sweet Stuffing (Ai Wo Wo)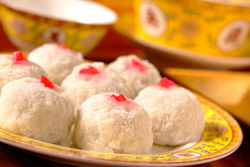 Sticky rice with sweet stuffing is made of glutinous rice or millet flour with a sweet filling. This Islamic snack first appeared during the Yuan Dynasty (1279-1368), and then became a court snack in the Ming Dynasty. The cake, with white sticky rice as the coating, has a rich filling inside. The sweet filling is made from walnut meat, mashed jujube, sesame kernels, and white sugar.
Rolling Donkey (Lu Da Gun)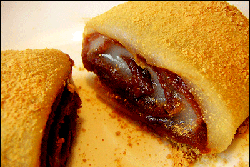 Rolling donkey is a well-known Islamic snack favored by people who have a natural sweet tooth. Rolling donkey is a steamed glutinous rice roll filled with red bean paste or brown sugar, which is then rolled and covered in a soybean flour crumble.
Some people may wonder why it is called rolling donkey? This is because when the glutinous rice roll is rolled in the soybean flour, it looks like a donkey rolling about on the ground and kicking up a cloud of dust.
Mung Bean Milk (Douzhi)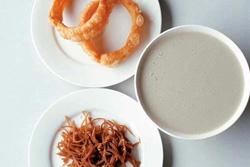 When talking about Beijing snacks, most Beiijingers will consider mung bean milk as the number one snack in Beijing cuisine. It is very popular with people born and bred in Beijing.
It is a fermented drink made from mung bean. It is grey-green in color, and the taste is a slightly sour and sweet. People like to drink it because it is rich in protein, vitamin C, and dietary fiber, and was once listed in the imperial menus. Most people will find it hard to swallow, because of its sour flavor, but you may get addicted to it after several brave tries.
Fried Liver (Chao Gan)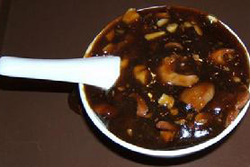 People in Beijing take fried liver as a breakfast. Though it is called fried liver, actually the liver is only one third of the dish, while the intestines of pigs are the main ingredient. For finely-cooked fried liver, the soup should be sparkling and clear, the intestine tender and the liver tasty. Fried liver used to be served with small steamed dumplings, but now there is no particular way to eat it.
Filled Sausage (Guan Chang)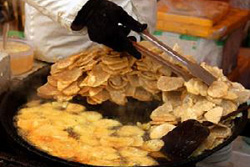 Filled sausage has been a very famous snack in Beijing since the Ming Dynasty (1368 - 1644).
To make the filled sausage, flour or starch is firstly mixed with some spices, and the paste is stuffed into prepared pigs' intestines. The sausage is then boiled and cut into cubes to be fried. After that mashed garlic sauce is poured on it, and the delicious sausage is ready. People use cocktail sticks instead of chopsticks while eating the filled sausage.
Sweet Ears (Tang Erduo)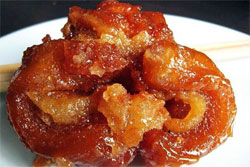 The sweet ear is a fried sugar cake, and is shaped like a human's ear, hence the name sweet ear or tang erduo in Chinese. It is a famous Islamic snack in Beijing. The main ingredients are flour and sugar. It is served cold, and tastes soft and sweet.
Three Cuts of Honey (Mi San Dao)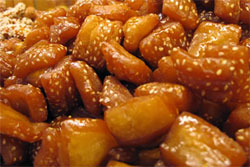 Three cut of honey is a fried cake glazed in malt sugar, and is a traditional snack in Beijing. It used to be the court dessert since the time of Emperor Qianlong of the Qing Dynasty. It is made from cereal, such as barley, though fermentation and saccharification. The cake is characterized by the bright but not sticky syrup, the sweet and soft taste, and the strong flavor of sesame.
Featured Restaurants
There are lots of famous restaurants selling snacks. In many restaurants you may find some other things special. So my suggestion may be helpful for you to save some time.
Fangshan Restaurant
Snacks of royal family, Sticky Rice with Sweet Fillings and Pea-Flour Cake (Wan Dou Huang)
Location: No. 1, Wenjin Street, Xicheng District, Beijing (Inside Beihai Garden)
Donglaishun Restaurant
Cream Fried Cake (Nai You Zha Gao)
Location: Floor 5, Xindong'an Mansion, 138 Wangfujing Street
Duyichu Restaurant
opened in 1738, and is famous for its Shao Mai, which has both attractive appearance and delicious taste.
Location: No. 36 Qianmen Dajie, Chongwen District.
Nanlaishun Restaurant
you can find about seventy kinds of snacks here.
Location: No. 12, Nancaiyuan Street, Xuanwu District
LongfuTemple (Longfu Si) Snacks Restaurants
Islamic Snacks
Location: Longfusi Street (200M east of Art Gallery), Dongcheng District
Donghuamen Night Market
a place where most common people go to have snacks.
Location: Dong'anmen Dajie, Wangfujing Avenue, Dongcheng District
Recommend Beijing Tours

4-day Essence of Beijing Tour
from $274 p/p

6-day Beijing Great Wall Hiking Tour
from $483 p/p

1 day Beijing - Xian - Beijing Tour Deal
from $416 p/p