Beijing Snack Streets
Beijing snacks is a type of Beijing Cuisine and a special feature of Beijing. Beijing has a many time-honored history of producing various kinds of snacks. Beijing snacks fall into three varieties: the Han style, the Hui style (the Islamic style) and imperial snacks. Tourists can taste not only the local Beijing flavors, but those of other regions as well. Snack-stalls in the night markets are always popular and busy destinations.
Donghuamen Night Market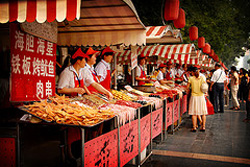 Donghuamen Night Market is the most famous street of its kind in Beijing. It is very popular with both local and international tourists. Thousands of types of fast food are available but local specialties play a dominant role. At night, the smell of food and voices of sellers are a bright spot in Beijing evening.
Location: Dong'anmen Dajie, Wangfujing Avenue, Dongcheng District
Gui Jie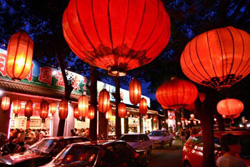 The surprising name, the 'Ghost Street' refers to round-the-clock service. When the red lanterns light up the street is officially opened for evening dining, but the street is packed and lively 24/7. Fully fledged restaurants, snack shops, and regular shops cram the street. All main Chinese cuisines are represented but it is best known for the crayfish in hot spices.
Location: Dongzhimennei Avenue, Dongcheng District
Wangfujing Snack Street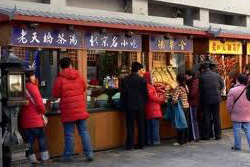 Wangfujing is best known as a great shopping area, but as a mealtime approaches, you'll see people flocking to the Wangfujing Snack Street, just off the main shopping street. In addition to the traditional snacks, fried scorpions, sea horses, cicadas and starfishes are not rare. Snack vendors here sell old favorites as well as more exotic dishes: just watch the locals and you'll know what to go.
Location: West of Wangfujing Avenue, Dongcheng District
Longfusi Snack Street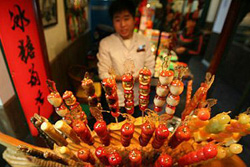 If you don't have any snack in mind, Longfusi Snack Street is the place to come to try a wide variety of authentic and flavorful Beijing dishes like kebabs, barbecue, tripe, Chinese doughnuts and much more; all at very affordable prices. Once you try it you'll want to keep coming back for more.
Location: Longfusi Street (200M east of Art Gallery), Dongcheng District
Huguosi Snack Street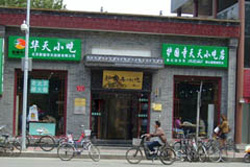 Traditional old-school Beijing snacks are not as hard to find as you might think. Huguosi is one of the biggest chains serving up nearly a hundred varieties to guests. Instead of coffee, they serve mung bean juice, and there's always the option of a steaming hot bowl of tripe.
Location: Huguosi, Shichahai Xicheng District
Niujie Snack Street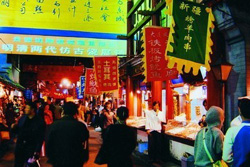 There is a saying in Beijing: "the best snacks in Beijing are Muslim. The best Muslim snacks are on Niujie Snack Street." The street is known for its cultural significance as it holds the largest concentration of Muslims in Beijing. The beautiful architecture and rich atmosphere make it a worthwhile excursion. Over 200 Muslim and Chinese snacks are produced at Niujie Snack Street, including glutinous rice, roasted wheat, braised beef, mutton tripe, stuffed rice dumplings, bean jelly, sweet and sour plum juice, and different varieties of beef and mutton cone-shaped cakes.
Qianmen Snack Street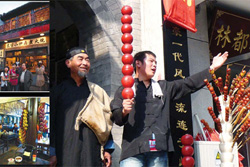 Qianmen is well known for its seven hundred years' history which features a number of Qing and Ming style buildings. Qianmen Snack Street runs 180 metres in length and is a perfect place to find snacks. All types of traditional foods of China are available.
Location: south of Tiananmen Square and Qianmen Gate running approximately 845 metres to Zhushikou Street
Bus Route: 2, 5, 17, 22, 44, 110, 120, 201, 826 (get off at Qianmen Stop)
Guang'anmen Snack Street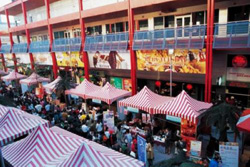 Guang'anmen Snack Street, Beijing's longest snack street stretches from Liuliqiao in the west, to Hufangqiao in the east. It is known for its hot and spicy flavors. Papa Li Restaurant and Tan Fish Head Hot Pot are typical of Sichuan in southwest China. The hot Sichuan recipes, like Spicy Fragrant Crab are very famous in China's capital city.
Location: Guang'anmennei Dajie, Xuanwu District
Bus Route: 5, 6, 19, 109, 201, 816 (get off at Baiguang Road Stop)
Shichahai Snack Street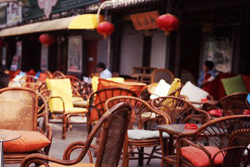 Shichahai Snack Street is the most popular snack street in Beijing. This street is forever filled with curious tourists day and night. There are many restaurants and stalls in the street which serve various Chinese cuisines. Traditional famous Beijing snacks are provided by many of the vendors. These kinds of snacks have a history of 100 or 200 years. In addition to the traditional local snack shops, there are many famous restaurant chains such as Starbucks.
Location: Shichahai, Xicheng District
Bus Route: 5, 819, 839 (get off at Guozishi Stop)
Recommend Beijing Tours

4-day Essence of Beijing Tour
from $274 p/p

6-day Beijing Great Wall Hiking Tour
from $483 p/p

1 day Beijing - Xian - Beijing Tour Deal
from $416 p/p