Beijing Hongqiao Market (Pearl Market)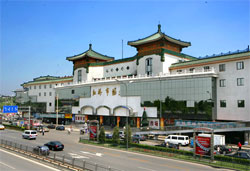 Hongqiao market is located in the south central area of Beijing, east of the Temple of Heaven. As you'd expect, Hongqiao market is famous for pearls, but the market has a lot more to offer than three floors of pearls and jewellery. It is an indoor mall with a seafood market in the basement and other 5 floors up.
The massive seafood market in the basement has played an important role since the opening of the market, There are many varieties of seafood on sell, ranging from common fish, shrimp and crabs and most of which are sold on to hotels and restaurants in Beijing.
On the ground floor are MP3 players, digital cameras, DVD players and other electrical items. There is also a large selection of watches, silks and underwear.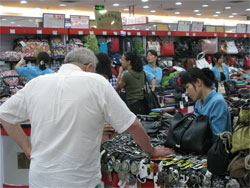 On the second floor, there are branded clothing, silks, shoes, suitcases and handbags. You'll notice here that a lot of shops sell the same items, so make sure you haggle over the price to get yourself a bargain.
The third floor divides into two halves. The first selling Chinese arts and crafts while the second is where the famous pearl market begins, but doesn't end.
Pearls cover the forth and fifth floors as well. The higher you go, the more exclusive the pearls and other jewellery.
Shopping here is as you would expect at any Chinese market. It's crazy, loud, aggressive and a lot of fun. Prices start high here and the vendors know it, so battering over price is essential and expected from you. If your battering skills aren't good explain that you can't afford it and walk away, the vendors will come running after you and offer a better price.
The Seafood Market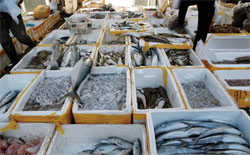 The seafood market here is more popular with restaurants and hotels than shopping locals. It is an interesting place to browse and get a feel for what a traditional wet market is like.
Head for the fish stalls which are stacked with teams of fresh varieties: crabs pilled high, rows of neatly arranged fish and loads of baby sharks pilled on top of each other. The fish is so fresh that you will probably see some of it move.
The Pearl Market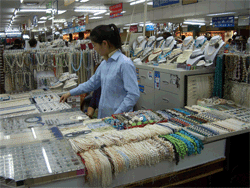 Definitely the biggest draw to Hongqiao Market is the pearls. It's the largest pearl distributor in China and is the largest section of the market. There are many varieties of pearls, with different colours, sizes and quality and prices range from a few yuan to thousands. The higher the floor, the higher the price and better the quality.
You will find freshwater pearl, seawater pearl, coral, emeralds, gems and other precious stones. It is easy to become amazed by the array of exquisite jewels for your oar and it's possible to spend hours searching for the perfect gift here.
The Pearl Market is world famous and the Prime Minister Margaret Thatcher was a regular visitor here.
A Quick Guide to Buying Pearls
With the echnique development of generating artificial pearls, cultured pearls are expanded in sufficient quantities to make them available to almost everyone. Pearls developed by natural methods are sought after and often sold at auction. Natural pearls are sold at the pearl market identifiable by the price.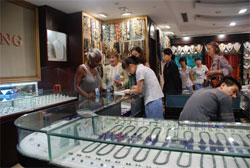 There are a number of things that establish the value of a pearl. The larger the pearl, the rarer and more expensive it is. The shape of the pearl needs to be perfect, the surface of the pearl should glow. It is blemish free and if you're buying a strand, then they need to match.
Fresh water pearls are naturally white, ivory, pink, and coral or peach, but you'll find an exciting selection of other colours at the market. This is achieved by adding a special dye using a laser and is popular in China.
Don't be put off if you don't have any knowledge of pearls. Pearl Market is fun and no doubt you'll find something to suit you and your budget.
Travel Information
Address: Tiantan Donglu 46, Chongwen district
Transport: Take subway Line 5; Take bus 6, 34, 35, 36, 39, 41, 43, 60, 106, 116, 723, 743, 821 and get off at Fahuasi (Fahua Temple) stop.
Opening Times: 9:30 to 19:00
Recommend Tours

4-day Essence of Beijing Tour
from $274 p/p

6-day Beijing Great Wall Hiking Tour
from $483 p/p

1 day Beijing - Xian - Beijing Tour Deal
from $416 p/p