Chinese Ceramics
Pottery, porcelain and ceramics are three easily confused terms to describe the earthenware production in China. Therefore, it seems necessary to give you some explanations before we arrive at the Liulichang Cultural Street in Beijing.
China is famous for its china - porcelain wares. Chinese porcelain wares were and are exported to many nations and acquire high appraisement.
Porcelain also experienced a long history in China. During the Shang and Zhou dynasties, primitive porcelain wares emerged in the middle and lower reaches of Yangtze River and the Yellow River.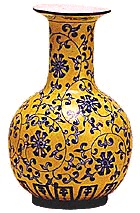 Real porcelain wares appeared in the Han dynasty. In the process of porcelain development, different styles in different periods blossomed.
From the Han dynasty, celadon porcelain and black porcelain were mainly produced. Celadon porcelain continued to develop during the later dynasties. In the late Tang dynasty, celadon porcelain production techniques matured and were manufactured in large scale. At the same time, white porcelain, which appeared in the later Northern and Southern dynasty, reached its peak too. White porcelain, mainly produced in Xing Kiln in Hebei province, sounds like musical instruments when tapped.
The Song dynasty, the most important dynasty in Chinese porcelain history, brought prosperity in porcelain production and appreciation. There were many famous kilns, and Ru Kiln, Jun Kiln, Guan Kiln, Ge Kiln and Ding Kiln were the top five among them. Ru Kiln produced creamy porcelain wares while Jun Kiln produced rosy porcelain wares red as sunset glow. Ge Kiln was specialized in artificial cracky wares. Among them, the most famous were Ru Kiln wares.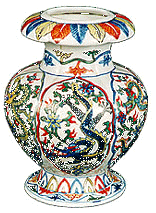 The fine and delicate Ru wares which used special glaze with carnelian added. The Ru wares basically had four kinds of glaze according to color, namely azure, sapphire, moon white and turquoise. It was very difficult to control the firing temperature and glaze prescription. Since the production of Ru ware lasted only 20 years, Ru wares are so rare that only about 70 pieces are found nowadays in the world. In a word, in the Song dynasty, porcelain production and techniques reached an unprecedented height.
During the Yuan dynasty, porcelain industry continued its rapid development. Blue and white porcelain, which emerged in the Tang and Song dynasties, reached its maturity. The blue and white ware was painted with power blue under transparent glaze. So the color was perfectly protected under the hard glaze, enabling long-term use and reserve.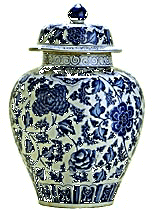 Among those kilns, Jingdezhen kiln made breakthrough in techniques. It remodeled material prescription and improved firing temperature, hence facilitated producing large wares. Second, blue and white wares and red-under-glaze wares were successfully produced and rapidly matured, to mark that combination of Chinese painting and porcelain production reached maturity and color-under-glaze porcelain wares developed to a record high. Third, great achievement was made in the producing of colorant glaze. Before the Yuan dynasty, people had few color choice.
In the Ming dynasty, blue and white porcelain wares became the main stream of porcelain production. Blue and white ware stepped into its golden era during the Yongle, Xuande and Chenghua reigns. Delicate and thick glaze, various patterns and affluent models are basic features of the Yongle and Xuande porcelain wares. Chenghua wares were delicate and lighted colored, with Chinese ink wash painting flavor. In the late Ming dynasty, blue and white porcelain met another surge during the reigns of Jiajing, Longqing and Wanli.
In the Qing dynasty, blue and white made a great leap forward to radiate its worldwide influence. Among the Qing porcelain wares, those produced in the reigns of Kangxi, Yongzheng and Qianlong are the most famous.
Recommend Beijing Tours

4-day Essence of Beijing Tour
from $274 p/p

6-day Beijing Great Wall Hiking Tour
from $483 p/p

1 day Beijing - Xian - Beijing Tour Deal
from $416 p/p