Airport Facilities
Beijing Capital Airport is one of the major airports for passengers entering and exiting China. With the latest equipment in the three terminal buildings, Beijing Capital Airport offers excellent service to passengers.
Banks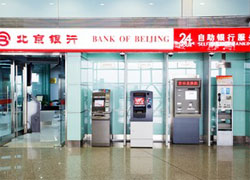 For passengers convenience to exchange yuan (RMB) and other major foreign currencies, lots of banks have set up branches in the airport, including the Bank of China, Industrial and Commercial Bank of China, China Construction Bank, and Agriculture Bank of China. There are also auto currency exchange machines and ATMs in each terminal.
Business Centers
There are four business centers in the airport, three in the domestic flights area and one in the international flights area on the second floor. Services include printing, mobile phone charging, copying and internet via PC. Service time: 07:00–21:30.
Post Office
The post office provides normal postal services, sells books and magazines, offers express delivery, and sells phone cards. Open: 07:00–20:00.
Restaurants and Coffee Rooms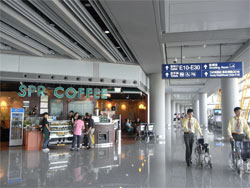 There are lots of restaurants and coffee rooms in the airport. The restaurants offer Chinese and Western food.
Rest Rooms
Some rest rooms are just available to passengers of first class or business class Hainan Airline flights and those who hold cards of Air China, BGS (Beijing Aviation Group Service), or the Gotone Club of China Mobile. Free restrooms including facilities for mother and infant are provided throughout the airport.
Public Phones
Two kinds of public phones are offered to passengers. The common IC phone and the Mianmiantong web phone, which supports email receiving and the Internet.
Hourly Lounge
The T3 building offers round-the-clock hotel style facilities for passengers, including a reading area, coffee bar, single and standard rooms, massages, and other hotel services.
Medical Service Room
Each terminal building has a medical service room offering diagnosis, first aid, and ambulance services.
Drinking Water Equipment
Self-service water dispensers can be found at numerous points throughout the building. They provide cold, hot, and iced water. Purified water is also available.
Parking Lots
Each terminal building has its own parking lot for passengers. Parking charges are based on the type of car.
Shopping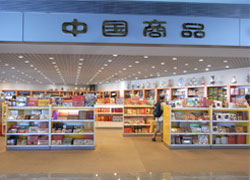 Passengers can buy local handicrafts, special Chinese products, and locally made clothing for their friends and family in the airport.
Lost and Found
If passengers lose something in the airport, they can go to police station and ask for the help.
Recommend Beijing Tours

4-day Essence of Beijing Tour
from $274 p/p

6-day Beijing Great Wall Hiking Tour
from $483 p/p

1 day Beijing - Xian - Beijing Tour Deal
from $416 p/p