Beijing Imperial Cuisine Restaurants
Fangshan Restaurant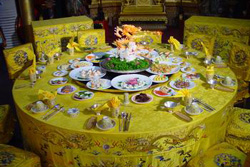 Opened by former Forbidden City chefs, this restaurant serves the same dishes that China's emperors once enjoyed, and in a traditional setting in BeihaiPark. Popular venue for entertaining business clients.
Address: No. 1, Wenjin Street, Xicheng District(Inside Beihai Park)
Tel: 010-64993285, 64910262
Average price per person: RMB200-250
Credit cards accepted: Visa
Hours: 11:00 a.m. to 1:30 p.m.; 5:00 to 7:30 p.m.
Dress code: Casua
Reservations required
Location: 20 minutes from Wangfujing Street, Beijing Grand Palace and Holiday Inn Crown Plaza hotels
Li's family Restaurant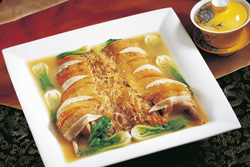 Li Family Restaurant is located beside Houhai Lake. It serves traditional imperial dishes in a cozy, informal atmosphere. The founder of the restaurant is said to be descended from the imperal court cooks of the Qing Dynasty. English menu availabe and reservation is needed.
Address: No. 11, Yangfang Hutong, Inside Desheng Door Street, Xicheng District
Tel: +86-10-6618 0107
Average price per person: RMB200-250
Bai Jia Da Yuan Restaurant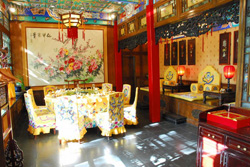 The Baijiadayuan Restaurant lies within the famous " Yuejia Garden" in Suzhou Street, Haidian District, Beijing. It is famous for imperial court cuisine and the unique Baifu dishes. The restaurant is in the garden style of the Qing Dynasty. It has successively won the " National Special Grade Restaurant "honor.
Address: No. 15 Su Zhou Street, Haidian District
Tel: 010-62658851/62654186
Average price per person: RMB250-300
Lin Hu Xuan Restaurant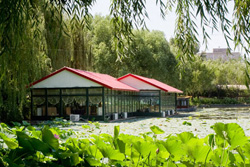 Lin Hu Xuan Restaurant is located at the east bank of the lake in Liuyin Park. Its elegant Chinese courtyard style and water glass wall, allow diners to feel the beat of the downtown city from a haven inside. Recommended dishes are: the stewed yellow shark's fin, sansi shark's fin, Buddhist arhat lobster and sashimi with scallion. The chefs are not limited to one type or style and have developed a series of unique, healthy and modern dishes. It has become a popular place for local people looking for relaxing atmosphere with good food.
Address: No.Jia 8 Huangsi Dajie, Dongcheng District
Tel: 010-84122679
Average price per person: RMB200-250
Mei Mansion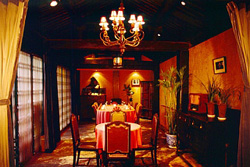 Mei Mansion located in Daxiangfeng Hutong. It serves fabulous Huaiyang style cuisine. The restaurant occupies a elegant 200-year-old Beijing courtyard of about 1000 square meters which used to be a part of a mansion during the Qing dynasty. The waiters' wear traditional costumes and combines Chinese style garden provides a real Chinese cultural experience.
Address: No. 24 Da xiang feng Hutong, Xicheng District
Tel: 010-66126845/66126847
Average price per person: RMB200-250
Ritan Inn House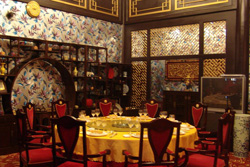 Ritan Inn House is located in the southwestern corner of Ritan Park and has recently undergone an extensive renovation. The restaurant has been reborn as a high class venue for business dining or entertaining. Four specialties are on offer: Cantonese, Japanese, "French-style barbecue" and Guanfu Cai ( a style derived from the kitchens of those high officials of Imperial China). The royal garden-style environment is an attractive feature.
Address: southwest corner of Ritan Park, Chaoyang district
Tel: 010-65919519
Average price per person: RMB200-250
Recommend Beijing Tours

4-day Essence of Beijing Tour
from $274 p/p

6-day Beijing Great Wall Hiking Tour
from $483 p/p

1 day Beijing - Xian - Beijing Tour Deal
from $416 p/p