Worship the God of Heaven
Worship of the God of Heaven followed a fixed pattern. First, the officials responsible for the ceremony had to write a program, which was presented to the Emperor in the Hall of Supreme Harmony in the Forbidden City for approval.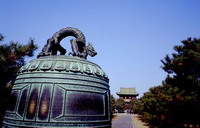 After the program was approved, the emperor rehearsed it in the Hall of Complete Harmony.
The day before the ceremony, the emperor presented incense in the Imperial Vault of Heaven. Then, he went to the Circular Mound Altar to inspect the tablets. Also, the emperor inspected sacrificial articles in the storehouse of the gods.
On the day of the ceremony, the emperor left the Hall of Abstinence two hours before sunrise to the chiming of the bell. Music and drums replaced the Altar. This is how the ceremony began. The entire ritual consisted of nine steps.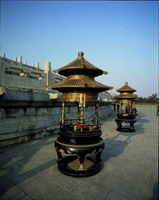 Wellcoming the deities where something special was burnt to usher in the God of Heaven.
Offering jade and silk items in boxes.
Presenting sacrificial animals.
First presenting of offerings.
Second presenting of offerings.
Final presenting offerings.
Removal of sacrificial offerings.
Seeing the deities off: stuff of each kind of offering was burnt.
The emperor views burning of all offerings.
Different music accompanied each procedure, which was followed by the kowtow of the emperor and his ministers. When the smell of the burnt offerings filled the air of the Circular Mound Altar, the ceremony was over.
Recommend Tours

4-day Essence of Beijing Tour
from $274 p/p

6-day Beijing Great Wall Hiking Tour
from $483 p/p

1 day Beijing - Xian - Beijing Tour Deal
from $416 p/p