Testimonial
We are committed to giving our customers an authentic China experience not just something staged for tourists. Read feedback written by our customers about their experiences in China after they have returned home. These include the ratings and comments on attractions, guides, activities, hotels and food. Would you like to look at the tours that 1340 previous customer have recommended?

Aloha from Hawaii. We just want to say we have been working Ruby and China Highlights for at least 2 years. They have been very patient and they answered all of our questions. The tour guides have been fantastic. The drivers have got us reward. Thank you.

Elizabeth(United States)
16 Days Beijing, Xian, Shanghai, Guilin, Hong Kong Tour

Our tour was enjoyable, thank you for making such a good arrangement. Hey, I am interested in your "Unique Cash Making Link", do you arrange for golf tour in China? I do have a website for Golf, and how will this work?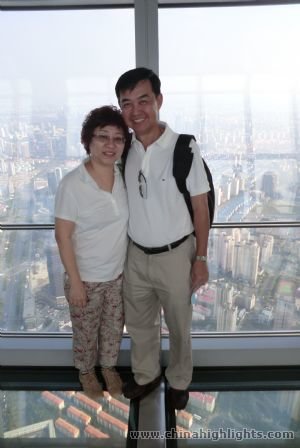 Hin Kong (Singapore)
8 Days Shanghai, Hangzhou, Suzhou Tour

We had a fantastic time. Our guide was the best and if we come to China in two years we want her to guide us. Liana was the best. You are lucky to have her. Everything worked out just right - our driver was excellent. I'm recommending China Highlights to everyone.

Sylvia(United States)
3 Days Beijing Tour

We enjoyed all of the cities we visited, the hotels were very comfortable and we found the people friendly and fun to be with. Thank you again, we truly had a wonderful trip and brought home many memories we will always cherish.

Thad(United States)
18 Days Beijing, Xian, Lhasa, Chengdu, Chongqing, Yangtze, Yichang, Shanghai, Hong Kong Tour

Before we left Australia, my husband had not been very well but he insisted we go and I would particularly like to commend Percy our guide in Beijing .He was so patient with our many stops and helped my husband climb the many steps. He had a good sense of humour and would be a good guide for any age group, but I feel he has a special affinity with older people.

Barbara(Australia)
13 Days Beijing, Xian, Chengdu, Guilin, Longsheng, Yangshuo, Hong Kong Tour

I received excellent service from Michael Hu regarding my custom itinerary. He was very knowledgeable and helpful without being pushy.


Your detailed itinerary information & planning were very meticulous & I was impressed with your attention to detail in all the planning & execution of my travel arrangements.

Amit(United States)
10 Days Beijing, Chongqing, Yichang, Yangtze, Shanghai, Suzhou Tour

Over the past few months Vanessa Zheng has been very helpful organizing our holiday to China from Canada. She is most knowledgeable and her approach very professional.


Of all the sights we saw I think our day at Longsheng Rice Terraces was the one we will remember most. Meeting real Chinese people gave us so much pleasure. We have some wonderful memories

Barbara(Australia)
13 Days Beijing, Xian, Chengdu, Guilin, Longsheng, Yangshuo, Hong Kong Tour

Just wish to drop a note to compliment Karen that she has been very prompt in answering all my questions regarding Huangshan Tour and I will contact her again once we can confirm our travelling date.